Witamy na EXSite.pl! Tutaj znajdziesz wszystko!
Darmowe filmy, darmowe gry, darmowe programy, darmowe mp3, albumy, szablony, tapety, style windows skins, darmowe filmy erotyczne, teledyski, eBooki, anime, darmowe seriale i wiele więcej... Wszystko za darmo!
Herb Alpert - Live At Montreux 1996 (2008) DVD5
Herb Alpert - Live At Montreux 1996 (2008) DVD5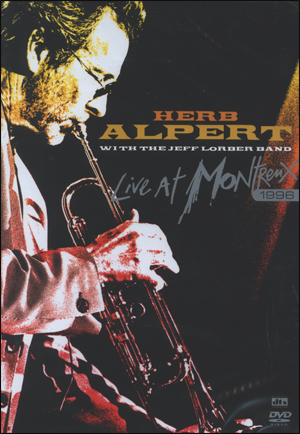 Video: PAL, MPEG-2 at 4 884 Kbps, 720 x 576 at 25.000 fps | Audio: AC-3 6ch. at 448 Kbps, DTS 6ch. at 755 Kbps, PCM 2ch. at 1 536 Kbps
Genre: Easy Listening, Jazz | Label: Eagle Rock | Copy: Untouched | Release Date: 1 Dec 2008 | Runtime: 75 min. | 4,19 GB (DVD5)
One of the most successful instrumental performers in pop history, trumpeter Herb Alpert was also one of the entertainment industry's shrewdest businessmen: A&M, the label he co-founded with partner Jerry Moss, ranks among the most prosperous artist-owned companies ever established. Born March 31, 1935, in Los Angeles, Alpert began playing the trumpet at the age of eight. After serving in the Army, he attempted to forge an acting career, but soon returned to music, recording under the name Dore Alpert for RCA. With Lou Adler, Alpert co-wrote a number of Sam Cooke's most enduring hits, including "Wonderful World" and "Only Sixteen." Under the name Dante & the Evergreens, he and Adler also recorded a cover of the Hollywood Argyles' "Alley Oop"; additionally, Alpert produced tracks for the surf duo Jan & Dean. In 1962 he teamed with Moss to found A&M Records, scoring a Top Ten hit with the single "The Lonely Bull."
From its humble origins as a company run out of Alpert's garage, A&M grew to become the world's biggest independent label; among its greatest successes were the Carpenters, Cat Stevens, Joe Cocker, and Sergio Mendes & Brasil '66. Nevertheless, Alpert and his backing unit, the Tijuana Brass, remained the label's flagship act: on the strength of the hit "A Taste of Honey," his 1965 LP Whipped Cream and Other Delights topped the charts, popularizing his Latin-influenced style (dubbed "Ameriachi"). The follow-up, 1965's Going Places, also hit number one, launching the hit "Spanish Flea."
After 1966's What Now My Love his most popular effort, remaining at number one for nine weeks Alpert continued to dominate the charts with records including 1966's S.R.O. and the following year's Sounds Like and Herb Alpert's Ninth. In 1968, he scored his first number one single by taking a rare vocal turn on a rendition of Burt Bacharach's "This Guy's in Love With You"; the album Beat of the Brass followed the hit to the top of the charts, becoming Alpert's fifth and final number one LP. Released in 1969, Warm was the first of Alpert's 11 albums not to crack the Top 20; by 1971's Summertime, his commercial fates had fallen to the point where he no longer reached the Top 100. As A&M continued to thrive, he moved his primary focus from music to industry, although he regularly recorded throughout the early '70s; 1974's You Smile The Song Begins was his most successful outing in several years, but subsequent releases like 1975's Coney Island and 1976's Just You and Me met with greater chart resistance.
In 1979, Alpert staged a major comeback with Rise; not only did the album reach the Top Ten, but the title track topped the singles charts and became the biggest hit of his career. The follow-up, 1980's Beyond, was a Top 40 success, but subsequent efforts like 1982's Fandango and 1985's Wild Romance fared poorly. In 1987 Alpert enjoyed another renaissance with the album Keep Your Eye On Me; the lead single "Diamonds" hit the Top Five and featured a guest vocal from Janet Jackson, one of A&M's towering successes of the late '80s. Alpert continued recording throughout the 1990s, producing work like 1991's North on South Street, 1992's Midnight Sun, and 1997's Passion Dance. After selling A&M to PolyGram in 1990 for a sum in excess of $500 million, he and Moss founded a new label, Almo Sounds, in 1994; among the imprint's hit artists was the group Garbage. His own albums, including 1997's Passion Dance and 1999's Colors, were also released on the label. Alpert also tackled other forms of media, exhibiting his abstract expressionist paintings and co-producing a number of Broadway successes, including Angels in America and Jelly's Last Jam. He also established the Herb Alpert Foundation, a philanthropic organization dedicated to establishing educational, arts, and environmental programs for children.
Tracklist:
01. Intro [0:33]
02. Rise [8:33]
03. Drivin' Home [8:51]
04. Sneakin' In [5:24]
05. Rendezvous [5:18]
06. The Lonely Bull [6:33]
07. Spanish Flea [2:41]
08. My Funny Valentine [4:46]
09. Side Steppin' [9:16]
10. Across the Bridge [5:42]
11. A Taste of Honey [6:19]
12. Sugar Cane [6:14]
13. This Guy's in Love With You [4:07]
14. Credits [:37]
Features:
- Interactive Menu
- Direct Scene Access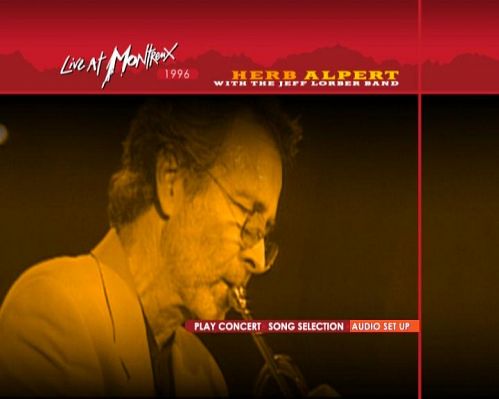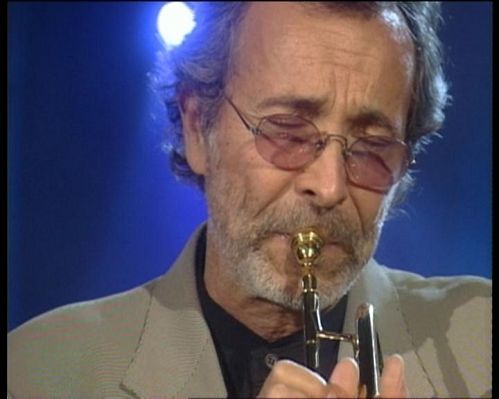 Zobacz inne moje newsy na
EXSite.pl
Informacje
Jeżeli chcesz skomentować artykuł musisz być zarejestrowany na stronie.