Witamy na EXSite.pl! Tutaj znajdziesz wszystko!
Darmowe filmy, darmowe gry, darmowe programy, darmowe mp3, albumy, szablony, tapety, style windows skins, darmowe filmy erotyczne, teledyski, eBooki, anime, darmowe seriale i wiele więcej... Wszystko za darmo!
Willy DeVille - Live In The Lowlands (2008) DVD9
Dodał: rgajowy 10 Marzec 2013 15:14
Willy DeVille - Live In The Lowlands (2008) DVD9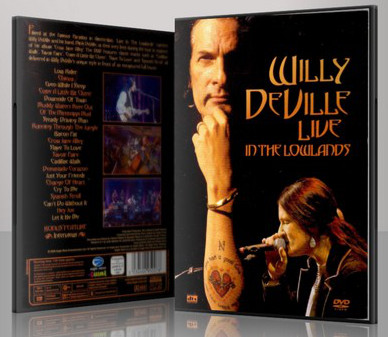 Video: PAL, MPEG-2 at 6 363 Kbps, 720 x 576 (1.778) at 25.000 fps | Audio: AC-3 2ch. at 224 Kbps, AC-3 6ch. at 448 Kbps, DTS 6ch. at 755 Kbps
Genre: Rock, Rock & Roll | Label: Eagle Rock | Copy: Untouched | Release Date: 1 Dec 2008 | Runtime: 118 min. | 7,05 GB
Subtitles: German, English, French, Spanish, Italian, Portuguese, Dutch
The roots of American music, including the blues, R&B, and Cajun music, gave Willy DeVille's (born William Borsey) late-'70s punk band, Mink DeVille, its unique flavor. A quarter of a century later, DeVille continued to blend musical traditions and postmodern intensity. A self-taught guitarist, DeVille found his early inspiration in the blues of John Hammond Jr., Muddy Waters, and John Lee Hooker. Determined to become a musician, he moved to London in 1971, hoping to latch on with a British band. Frustrated by his lack of success, he returned to the United States. Temporarily settling in San Francisco, he spent most of 1972 developing his stage persona in Bay Area clubs. Returning to New York, DeVille was in the right place at the right time. Forming a band, Dilly DeSade & the Marquis, later renamed Mink DeVille, with bassist Ruben Siguenza and drummer T.R. "Manfred" Allen Jr., he found his roots-oriented rock welcome in the city's burgeoning punk scene. When the independent Omfug label included three of their songs on the multi-artist compilation Live at CBGB's, recorded at the influential New York punk club, their punk connection was assured. With Atlantic acquiring national distribution rights to the album, Mink DeVille became one of the country's top punk bands.
Willy DeVille has remained active since the breakup of Mink DeVille in the mid-'80s. His debut solo album, Miracle, was produced in 1987 by Mark Knopfler of Dire Straits, and included such guests as guitarist Chet Atkins. One tune, "Storybook Love," used in Knopfler's score for the film The Princess Bride, was nominated for an Academy Award. Residing in New Orleans since the early '90s, DeVille featured the city's leading musicians, including Dr. John, Allen Toussaint, and Eddie Bo, on his 1990 album, Victory Mixture. New Orleans-style rhythms remained essential on his 1996 albums, Big Easy Fantasy and Loup Garou. Subsequent releases have focused on DeVille's live shows. Released in 2001, Live combined performances from the Bottom Line in New York and the Olympia Club in Paris. Live in Berlin, released two years later, featured the accompaniment of Seth Farber (piano, background vocals), Boris Kinberg (percussion), Freddy Koella (guitar, mandolin, vocals), David Keyes (bass, background vocals), and YaDonna Wise (background vocals).
Artists:
- Willy DeVille: Vocals, Guitar, Harmonica
- Freddy Koella: Guitar, Mandolin, Violin
- David Keyes: Acoustic Bass, Guitar, Vocals
- Boris Kinberg: Drums, Percussions, Vocals
- Kenny Margolis: Keyboards, Accordion, Vocals
- Hook Herrera: Harmonica
- Dorene Wise: Backing Vocals
- Yadonna Wise: Backing Vocals
Tracklist::
01. Low Rider [4:18]
02. Chieva [4:45]
03. Even While I Sleep [4:01]
04. Come a Little Closer [3:31]
05. Downside of Town [4:07]
06. Muddy Waters Rose Out of the Mississippi Mud [5:24]
07. Steady Driving Man [6:21]
08. Running Through the Jungle [3:31]
09. Bacon Fat [4:08]
10. Crow Jane Alleu [3:25]
11. Slace to Love [4:30]
12. Savoir Faire [3:07]
13. Cadillac Walk [4:40]
14. Demasiado Corazon [:13]
15. Just Your Friends [3:28]
16. (Don't Have a) Change of Heart [4:38]
17. Cry for Me [:08]
18. Spanish Stroll [3:27]
19. Can't Do Without It [3:38]
20. Hey Joe [7:00]
21. Let It Be [5:58]
Extra:
- Interviews
Features:
- Direct Scene Access
- Interactive Menu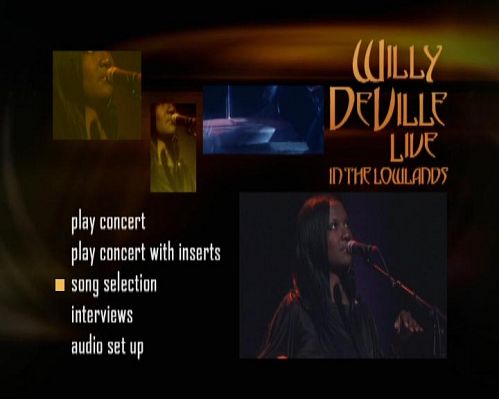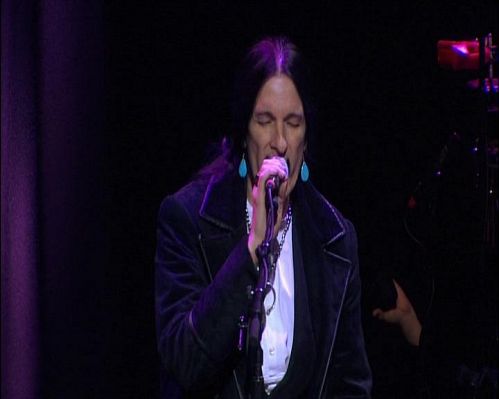 Zobacz inne moje newsy na
EXSite.pl
Informacje
Jeżeli chcesz skomentować artykuł musisz być zarejestrowany na stronie.