Witamy na EXSite.pl! Tutaj znajdziesz wszystko!
Darmowe filmy, darmowe gry, darmowe programy, darmowe mp3, albumy, szablony, tapety, style windows skins, darmowe filmy erotyczne, teledyski, eBooki, anime, darmowe seriale i wiele więcej... Wszystko za darmo!
Spandau Ballet - The Reformation Tour 2009: Live At The O2 (2010) DVD9
Dodał: rgajowy 10 Marzec 2013 15:29
Spandau Ballet - The Reformation Tour 2009: Live At The O2 (2010) DVD9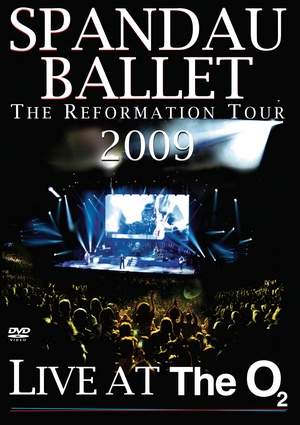 Video: PAL, MPEG-2 at 5 867 Kbps, 720 x 576 (1.778) at 25.000 fps | Audio: AC-3 2ch. at 192 Kbps, AC-3 6ch. at 448 Kbps, 48.0 KHz
Genre: Rock, New Romantic | Label: Unoversal | Copy: Untouched | Release Date: 23 April 2010 | Runtime: 156 min. | 7,27 GB
Thirty years after their first recordings and almost twenty after they disbanded, british prime new romantics came back with a new CD (containing re-recording of some of their most popular tunes plus a couple of new songs) and a tour in 2009. Recorded live at the famous O2 Arena in London, this DVD caught the band in an inspired night: it's hard to believe they were away for so long, since their perfomance was so hot, tight and, at the same time, so relaxed it seemed they were never apart. They surely didn't lose any of their musicanship. And none of their elegance either, for the matter.
Strangely for a band that had so many great videos, the only live performance available officially thus far was that of their last tour before they broke up in 1990. However, that video (reissue under several titles and covers, but they are all the same, so beware!) is marred by the inclusion of far too many songs from their last (and the weakest) album, Heart Like A Sky. Fortunatly this time they gave what the people wanted: a real fantastic selection of their best songs, all performed with gusto by the band.
It is ok that they are not as yound as they used to be, but boy, what stamina they have! Steve Norman, specially, seems to be particulary fired up, going to alto, tenor and soprano saxophones to guitar, percussion and backing vocals with a teenage energy. Vocalist Tony Hadley may have gained a few pounds over the years, and his voice may not be as sharp as it used to, but he still sings them in the same key as they were originally recorded. In fact I was surprised how well he handles such demanding material. He is surely one of the best and most underated singers of his generation. The rest of the band is also in fine form, all smiles and playing flawlessly.
Besides teh obvious hits and other well known CD tracks, there was room enough for them to introduce a new song, called Once Again, that was well received by the audience. And I should point out that the public was a show apart, always cheering, dancing, clapping and singing. It is obvious that the band was quite moved by the emotional reaction of the audience. Sound, lights and video quality are simply perfect, helped by a very good edition and the tasteful and efficient stage props (again way superior to their previous video of 1990). My only gripe is the fact that a great song like Cross The Lines is missing here (it seems it was played on this concert, but somehow wasn't included on the video), but otherwise the fans won't have a reason to complain: they play material from all their phases, so there is something for everyone. Highlights? For me there were many, like the blistering version of Man In Chains, the sing along part of True and the poignant version of She Loved Like Diamond.
As one of the leading New Romantic bands, Spandau Ballet racked up a number of British hits as well as one Top Ten American hit, "True" during the early '80s, becoming one of the most successful groups to emerge during the new wave. The only other new romantic band to enjoy greater commercial success was Duran Duran, yet Spandau Ballet was there first, scoring three Top Ten hit singles during 1981 with their synthesized dance-pop. By 1983, the London-based quintet had shed its Roxy Music-inspired robotic art-disco and picked up on Bryan Ferry's latter-day crooner persona, revamping themselves as a slick, stylish white soul act. It was in this incarnation that Spandau Ballet experienced its greatest success, as "True" reached number one in Britain and number four in America. However, their time in the spotlight was short-lived. Though they had a few more hits in Britain, none of them were particularly big, and in America they disappeared at the end of 1984. By the end of the decade, the group had split, with their core members, brothers Gary and Martin Kemp, launching acting careers with the 1990 film, The Krays.
The Kemps who played guitar and bass, respectively founded Spandau Ballet in 1979 with Tony Hadley (vocals), Steve Norman (rhythm guitar, saxophone, percussion), and John Keeble (drums). The group hired their school friend Steve Dagger as manager. Spandau Ballet began playing nightclubs in London that had responded to punk by embracing exaggeratedly fashionable clothes and makeup. Soon, the band was one of the most popular attractions on this scene, which was subsequently dubbed by the British press as "New Romantic." Chris Blackwell, the head of Island Records, saw the group at a London party and offered them a contract on the spot. They rejected his offer, choosing to set up their own label, Reformation. Early in 1980, the group licensed Reformation to Chrysalis, giving their label the distribution power of a major label.
"To Cut a Long Story Short," Spandau Ballet's first single, shot to number five in Britain upon its fall 1980 release. It was quickly followed by the number 17 hit "The Freeze" in early 1981, and "Musclebound," which reached number ten in the spring. The singles made their way over to America, where they received play in dance clubs. By the spring, their debut album, Journey to Glory, had been released. In the summer, they released a new, non-LP single, "Chant No. 1 (I Don't Need This Pressure On)," which boasted a funkier beat and soulful flourishes. The group continued to pursue this direction on their subsequent singles, including the gold-selling Top Ten U.K. hits "Instinction" and "Lifeline," as well as their 1982 album Diamond, but it didn't reach its fruition until the 1983 album True.
True was a full-fledged white soul album, much like the sophisticated pop of late-'70s Roxy Music albums. The title ballad reached number one in Britain during the spring and a few months later, the single and album became a hit in America, peaking at number four and 19, respectively. Spandau Ballet managed to hit the Top Ten once more in the U.K. with "Gold," which peaked at number two; in the U.S., it reached 29. "Communication," a third American single from True, fizzled in the spring of 1984. Its failure was the beginning of the band's commercial downfall. "Only When You Leave," the first single from 1984's Parade, was a number three hit in the U.K., yet it only reached 34 in the U.S.; furthermore, it was their last American hit ever. Parade was a success in Britain, but it wasn't as big as its predecessor. In 1985, Spandau Ballet sued Chrysalis, claiming that the label wasn't providing enough promotional support for the band, especially in the U.S., and thereby harming its career. The suit was settled in 1986, and the group jumped ship for CBS/Columbia (Epic in the U.S.), where they released Through the Barricades that same year. The title track was a Top Ten hit, but its follow-up, "How Many Lies?," became the group's last Top 40 hit ever. Following the release of Heart like a Sky in 1989, the group quietly disbanded.
Gary and Martin Kemp played the notorious British mobsters the Krays in a 1990 film of the same title. Gary Kemp pursued acting as his vocation during the '90s, appearing in The Bodyguard with Whitney Houston, HBO's The Larry Sanders Show, and Embrace of the Vampire with Alyssa Milano. Tony Hadley released a solo album, State of Play, in 1993.
Artists: Spandau Ballet
- Tony Hadley: lead vocals, synthesizers
- Gary Kemp: guitar, keyboards, backing vocals
- Martin Kemp: bass
- Steve Norman: saxophone, guitar, percussion
- John Keeble: drums, backing vocals
Tracklist:
01. To Cut a Long Story Short
02. The Freeze
03. Highly Strung
04. Only When You Leave
05. I'll Fly For You
06. How Many Lies
07. Virgin
08. She Loved Like Diamond
09. Once More
10. Round and Round
11. Man in Chains
12. With the Pride
13. Through The Barricades
14. Instinction
15. Communication
16. Lifeline
17. Chant no 1/ Paint Me Down
18. True
19. Fight for Ourselves
20. Gold
Extra:
- Spandau: The Return
Features:
- Direct Scene Access
- Interactive Menu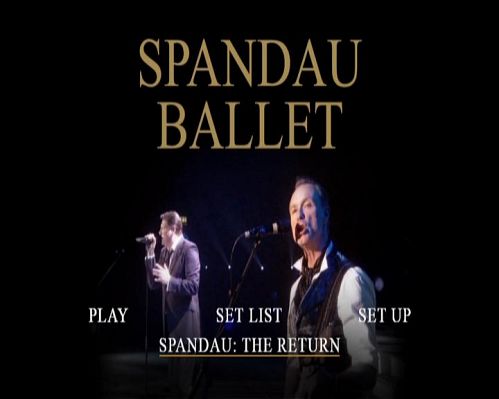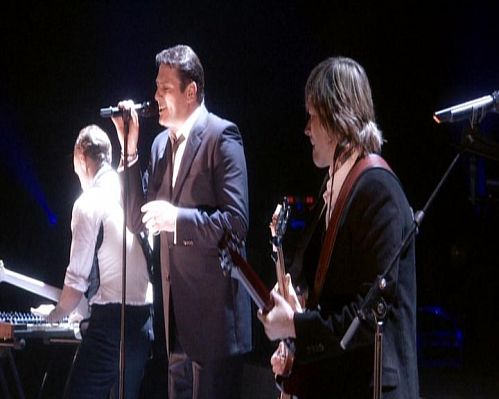 Zobacz inne moje newsy na
EXSite.pl
Informacje
Jeżeli chcesz skomentować artykuł musisz być zarejestrowany na stronie.