Witamy na EXSite.pl! Tutaj znajdziesz wszystko!
Darmowe filmy, darmowe gry, darmowe programy, darmowe mp3, albumy, szablony, tapety, style windows skins, darmowe filmy erotyczne, teledyski, eBooki, anime, darmowe seriale i wiele więcej... Wszystko za darmo!
Charlie Haden And The Liberation Music Orchestra - Live In Montreal (2002) DVD5
Dodał: rgajowy 15 Marzec 2013 11:02
Charlie Haden And The Liberation Music Orchestra - Live In Montreal (2002) DVD5
Video: NTSC, MPEG-2 at 6 587 Kbps, 720 x 480 (1.333) at 29.970 fps | Audio: AC-3 6ch. at 448 Kbps, AC-3 2vh. at 224 Kbps, 48.0 KHz
Genre: Jazz | Label: Image Entertainment | Copy: Untouched | Release Date: 29 Jan 2002 | Runtime: 60 min. | 3,43 GB
One of the outlets for bassist Charlie Haden's multifarious musical interests is the politically charged, progressive Liberation Music Orchestra. In July 1992, the Orchestra - a powerhouse of some of the top names in jazz - brought the collaborative sound of their album Dream Keeper to the Montreal International Jazz Festival. The African National Congress anthem, 'Nkosi Sikelel'I Afrika,' opens the program and sets the tone, with a blistering solo from the alto sax of Makanda Ken McIntyre and a more reflective one by tenor giant Joe Lovano. A suite-like series of traditional melodies from Latin America, plus a cry of defiance from the Spanish Civil War, follow; then Haden and his troops deliver a mix of rapture, joyous celebration and introspective interludes inside Carla Bley's stirring arrangements. The bill winds up with Haden's own 'Spiritual,' whose every heartfelt phrase seems to denote the tired joy of emancipation.
As a member of saxophonist Ornette Coleman's early bands, bassist Charlie Haden became known as one of free jazz's founding fathers. Haden has never settled into any of jazz's many stylistic niches, however. Certainly he's played his share of dissonant music in the '60 and '70s, as a sideman with Coleman and Keith Jarrett, and as a leader of the Liberation Music Orchestra, for instance but for the most part, he seems drawn to consonance. Witness his trio with saxophonist Jan Garbarek and guitarist Egberto Gismonti, whose ECM album Silence epitomized a profoundly lyrical and harmonically simple aesthetic, or his duo with guitarist Pat Metheny, which has as much to do with American folk traditions as with jazz. There's a soulful reserve to Haden's art. Never does he play two notes when one (or none) will do. Not a flashy player along the lines of a Scott LaFaro (who also played with Coleman), Haden's facility may be limited, but his sound and intensity of expression are as deep as any jazz bassist's. Rather than concentrate on speed and agility, Haden subtly explores his instrument's timbral possibilities with a sure hand and sensitive ear.
Haden's childhood was musical. His family was a self-contained country & western act along the lines of the more famous Carter Family, with whom they were friends. They played revival meetings and county fairs in the midwest and, in the late '30s, had their own radio show that was broadcast twice daily from a 50,000-watt station in Shenandoah, Iowa (Haden's birthplace). Haden debuted on the family program at the tender age of 22 months, after his mother noticed him humming along to her lullabies. The family moved to Springfield, MO, and began a show there. Haden sang with the family group until contracting polio at the age of 15. The disease weakened the nerves in his face and throat, thereby ending his singing career. In 1955, Haden played bass on a network television show produced in Springfield, hosted by the popular country singer Red Foley. Haden moved to Los Angeles and by 1957 had begun playing jazz with pianists Elmo Hope and Hampton Hawes and saxophonist Art Pepper.
Beginning in 1957, he began an extended engagement with pianist Paul Bley at the Hillcrest Club. It was around then that Haden heard Coleman play for the first time, when the saxophonist sat in with Gerry Mulligan's band in another L.A. nightclub. Coleman was quickly dismissed from the bandstand, but Haden was impressed. They met and developed a friendship and musical partnership, which led to Coleman and trumpeter Don Cherry joining Bley's Hillcrest group in 1958. In 1959, Haden moved with Coleman to New York; that year, Coleman's group with Haden, Cherry, and drummer Billy Higgins played a celebrated engagement at the Five Spot, and began recording a series of influential albums, including The Shape of Jazz to Come and Change of the Century. In addition to his work with Coleman, the '60s saw Haden play with pianist Denny Zeitlin, saxophonist Archie Shepp, and trombonist Roswell Rudd. He formed his own big band, the Liberation Music Orchestra, which championed leftist causes. The band made a celebrated eponymously titled album in 1969 for Impulse!
In 1976, Haden joined with fellow Coleman alumni Cherry, Dewey Redman, and Ed Blackwell to form Old and New Dreams. Also that year, he recorded a series of duets with Hawes, Coleman, Shepp, and Cherry, which was released as The Golden Number (A&M). In 1982, a re-formed Liberation Music Orchestra released The Ballad of the Fallen (ECM). Haden helped found a university-level jazz education program at CalArts in the '80s. He continued to perform, both as a leader and sideman. In the '90s, his primary performing unit became the bop-oriented Quartet West, with tenor saxophonist Ernie Watts, pianist Alan Broadbent, and drummer Larance Marable. He would also reconstitute the Liberation Music Orchestra for occasional gigs. In 2000, Haden reunited with Coleman for a performance at the Bell Atlantic Jazz Festival in New York City. Throughout the 2000s, Haden remained prolific, working with Gonzalo Rubalcaba on Nocturne and Egberto Gismonti on In Montreal in 2001; collaborating with Brad Mehldau, Michael Brecker and Brian Blade on the following year's American Dreams and John Taylor on 2004's Nightfall. That year, Haden returned to Montreal for the Joe Henderson tribute The Montreal Tapes with Henderson and Joe Foster and teamed up with Rubalcaba again for Land of the Sun. The Liberation Orchestra reunited for 2005's Not in Our Name, which was arranged and conducted by Carla Bley, and Haden celebrated his 70th birthday with Heartplay, a date with guitarist Antonio Forcione. Helium Tears, a 1988 session with Jerry Granelli, Robben Ford and Ralph Towner, was released in 2006. In 2008, Haden revisited his country roots with the Decca album Family and Friends: Rambling Boy. Late that year, the album's "Is That America (Katrina 2005)" earned a Grammy nomination for Best Country Instrumental Performance. In 2009, Haden was showcased on pianist Laurence Hobgood's When the Heart Dances which also featured vocalist Kurt Elling.
He returned in 2010 with Jasmine, a duo date with pianist Keith Jarrett recorded for a documentary film on his life. In 2011, Haden revisited his longtime noir project Quartet West with Sophisticated Ladies and appeared on the ECM date Live at Birdland (recorded in 2009) with saxophonist Lee Konitz, pianist Brad Mehldau, and drummer Paul Motian. For Haden the beginning of 2012 was yet another look back. Come Sunday, issued by Verve, was a belated reprise of his first duet recording with pianist Hank Jones their first was 1995's stellar Steal Away. These sessions took place in 2010. Like its predecessor, Come Sunday is a collection of spirituals and traditional songs. Its release was bittersweet, however, as Jones, passed away only three months after the sessions were completed.
Artists:
Charlie Haden Bass
Liberation Music Orchestra
- Ken McIntyre Sax
- Joe Lovano Sax
- Ryan Kiser Trumpet
- Mick Goodrick Guitar
- Tim Hagann Trumpet
- Bill Stewart Drums
- Sharon Freeman French Horn
- Joe Daley Tuba
- Rubin Eubanks Trombone
- James Williams Piano
- Paul Picard Percussions
- Javon Jackson Sax
Tracklist:
01. Opening [:37]
02. "Nkosi Sikelel'i Afrika" [16:45]
03. "Dream Keeper" [4:22]
04. "Feliciano Ama" [4:36]
05. "Dream Keeper" [1:11]
06. "Canto del Pilon" [8:09]
07. "Dream Keeper" [:47]
08. "Canto del Pilon" [3:14]
09. "Hymn of the Anarchist Women's Movement" [5:57]
10. "Dream Keeper" [1:36]
11. "Spiritual" [11:11]
12. End Credits [1:30]
Extra:
- Charlie Haden Interview 1992
- Charlie Haden - Miles Davis Prize's Presentation 2000
- Charlie Haden - Press Conference 2000
Features:
- Direct Scene Access
- Interactive Menu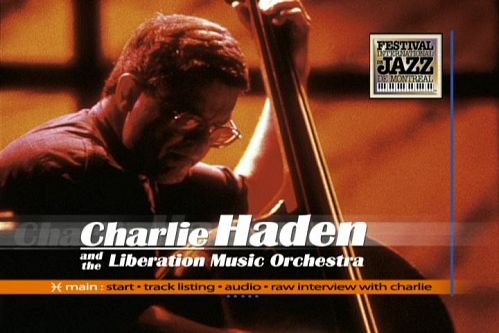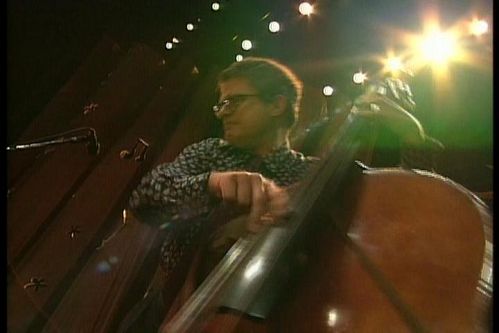 Zobacz inne moje newsy na
EXSite.pl
Informacje
Jeżeli chcesz skomentować artykuł musisz być zarejestrowany na stronie.