Witamy na EXSite.pl! Tutaj znajdziesz wszystko!
Darmowe filmy, darmowe gry, darmowe programy, darmowe mp3, albumy, szablony, tapety, style windows skins, darmowe filmy erotyczne, teledyski, eBooki, anime, darmowe seriale i wiele więcej... Wszystko za darmo!
The Manhattan Transfer - Vocalese Live 1986 (2000) DVD5
Dodał: rgajowy 15 Marzec 2013 11:15
The Manhattan Transfer - Vocalese Live 1986 (2000) DVD5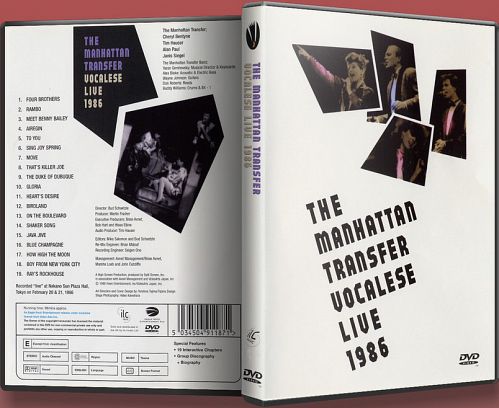 Video: NTSC, MPEG-2 at 6 660 Kbps, 720 x 480 (1.333) at 29.970 fps | Audio: AC-3 6ch. at 448 Kbps, AC-3 2ch. at 192 Kbps
Genre: Jazz, Vocal | Label: Eagle Rock Entertainment | Copy: Untouched | Release Date: 6 Mar 2000 | Runtime: 80 min. | 4,26 GB
You are encouraged to accept this invitation to the DVD party of the Manhattan Transfer's 'Vocalese Live' featuring Cheryl Bentyne, Tim Hauser, Alan Paul, and Janis Siegel and recorded live at Nakano Sun Plaza Hall, Tokyo. All you have to do to RSVP is get yourself a copy of this live event featuring one of the best contemporary Vocal Jazz groups of our time.
Riding a wave of nostalgia in the '70s, the Manhattan Transfer resurrected jazz trends from boogie-woogie to bop to vocalese in a slick, slightly commercial setting that sometimes failed to gel with the group's close harmonies. Originally formed in 1969, the quartet recorded several albums of jazz standards as well as much material closer to R&B/pop. Still, they were easily the most popular jazz vocal group of their era, and the most talented of any since the heyday of Lambert, Hendricks & Ross during the early '60s.
When the group was formed in the late '60s, however, the Manhattan Transfer was a hippie cornball act similar to the Lovin' Spoonful or Spanky & Our Gang. The lone LP that appeared from the original lineup leader Gene Pistilli plus Tim Hauser, Erin Dickins, Marty Nelson, and Pat Rosalia was Jukin', assembled by Capitol. An odd and hardly successful satire record, it was the last appearance on a Manhattan Transfer album for all of the above except Hauser.
After Hauser met vocalists Laurel Masse and Janis Siegel in 1972, the trio re-formed the Manhattan Transfer later that year with the addition of Alan Paul. The group became popular after appearances at a few New York hotspots and recorded their own debut, an eponymous LP recorded with help from the jazz world (including Zoot Sims, Randy Brecker, Jon Faddis, and Mel Davis). Featuring vocalese covers of "Java Jive" and "Tuxedo Junction" as well as a Top 40 hit in the aggressive gospel tune "Operator," the album rejuvenated the field of vocalese (dormant since the mid-'60s) and made the quartet stars in the jazz community across Europe as well as America.
the Manhattan Transfer's next two albums, Coming Out and Pastiche, minimized the jazz content in favor of covers from around the music community, from Nashville to Los Angeles to Motown. A single from Coming Out, the ballad "Chanson d'Amour," hit number one in Britain. Though Masse left in 1979 for a solo career, Cheryl Bentyne proved a capable replacement, and that same year, Extensions introduced their best-known song, "Birdland," the ode to bop written by Weather Report several years earlier.
Throughout the 1980s, the group balanced retreads from all aspects of American song. The 1981 LP Mecca for Moderns gained the Manhattan Transfer their first American Top Ten hit, with a cover of the Ad Libs' 1965 girl group classic "The Boy from New York City," but also included a version of Charlie Parker's "Confirmation" and a surreal, wordless tribute (?) named "Kafka." (The album also earned the Manhattan Transfer honors as the first artist to receive Grammys in both the pop and jazz categories in the same year.) The production on virtually all was susceptible to '80s slickness, and though the group harmonies were wonderful, all but the most open of listeners had trouble digesting the sheer variety of material.
The group's 1985 tribute to vocal pioneer Jon Hendricks, titled Vocalese, marked a shift in the Manhattan Transfer's focus. Subsequent works managed to keep the concepts down to one per album, and the results greatly improved. Such records as 1987's Brasil, 1994's Tubby the Tuba (a children's record), 1995's Tonin' ('60s R&B), and 1997's Swing may not have found the group at their performance peak, but were much more easily understandable for what they were.
Artists:
- Manhattan Transfer
Cheryl Bentyne
Janis Siegel
Tim Hauser
Alan Paul
- Yaron Gershovsky: Keyboards
- Wayne Johnson: Guitar
- Michael Bowie: Bass
- Tom Brechtlein: Drums
- Larry Klimas: Sax
- Lew Soloff: Trumpet
Tracklist::
01. Four Brothers [4:40]
02. Rambo [4:30]
03. Meet Benny Bailey [4:01]
04. Airegin [3:45]
05. To You [4:34]
06. Sing Joy Spring [6:46]
07. Move [3:02]
08. That's Killer Joe [9:03]
09. The Duke of Dubuque [2:47]
10. Gloria [3:06]
11. Heart's Desire [2:41]
12. Birdland [4:23]
13. On the Boulevard [3:42]
14. Shaker Song [5:14]
15. Java Jive [2:45]
16. Blue Champagne [2:49]
17. How High the Moon [1:50]
18. Boy From New York City [3:22]
19. Ray's Rockhouse [6:37]
Extra:
- Group Discography
- Group Biography
Features:
- Direct Scene Access
- Interactive Menu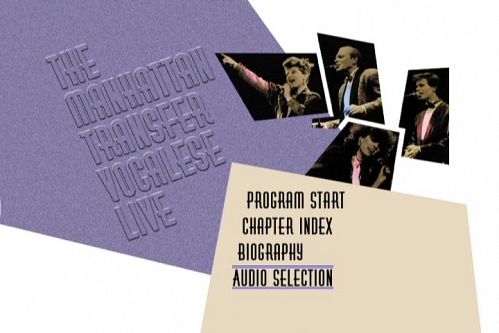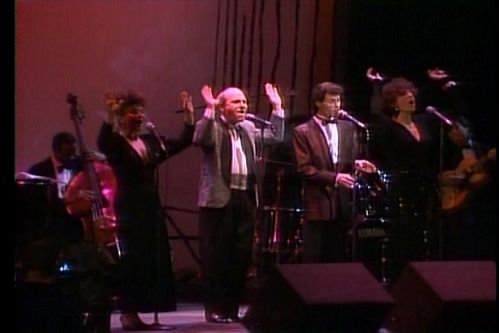 Zobacz inne moje newsy na
EXSite.pl
Informacje
Jeżeli chcesz skomentować artykuł musisz być zarejestrowany na stronie.