Witamy na EXSite.pl! Tutaj znajdziesz wszystko!
Darmowe filmy, darmowe gry, darmowe programy, darmowe mp3, albumy, szablony, tapety, style windows skins, darmowe filmy erotyczne, teledyski, eBooki, anime, darmowe seriale i wiele więcej... Wszystko za darmo!
Al Di Meola: Speak A Volcano - Return To Electric Guitar (2007) DVD9
Dodał: rgajowy 17 Marzec 2013 09:58
Al Di Meola: Speak A Volcano - Return To Electric Guitar (2007) DVD9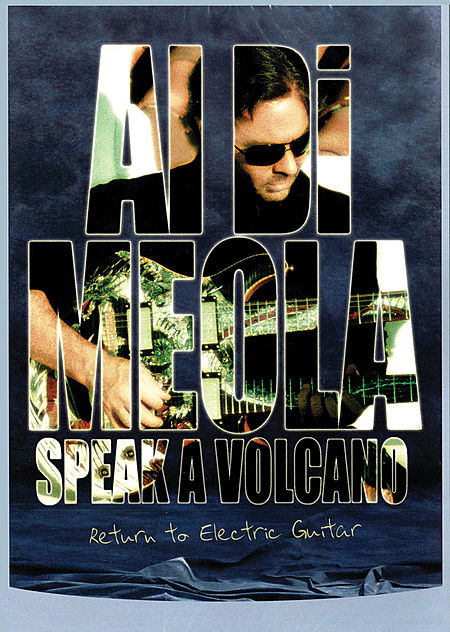 Video: NTSC, MPEG-2 at 5 368 Kbps, 720 x 480 (1.778) at 29.970 fps | Audio: AC-3 6ch. at 448 Kbps, DTS 6ch. at 755 Kbps, PCM 2ch. at 1 536 Kbps
Genre: Jazz | Label: Inakustiks | Copy: Untouched | Release Date: 31 Oct 2011 | Runtime: 120 min. | 6,79 GB (DVD9)
As filmed in November 2006, the music release Al Di Meola: Speak a Volcano - Return to Electric Guitar finds jazz-rock musician Di Meola onstage before a live audience in Leverkusen, Germany, in an electric guitar set accompanied by drummer Gumbi Ortiz. Here, Di Meola performs thirteen tracks including "Hypnose," "Red Moon" and "Azzura."
Guitarist Al di Meola first rose to prominence as a blazing jazz fusion player before his playing matured and he began to conquer other styles, such as acoustic Latin music. Born on July 22, 1954, in Jersey City, NJ, di Meola briefly studied at the Berklee School of Music in Boston during the early '70s before accepting a job replacing guitarist Bill Connors in fusion trailblazers Return to Forever (a group that included such monster instrumentalists as keyboardist Chick Corea and bassist Stanley Clarke) in 1974. It was with di Meola that Return to Forever enjoyed their greatest commercial success, as such releases as 1974's Where Have I Known Before, 1975's No Mystery, and 1976's Romantic Warrior cracked the U.S. Top 40 before di Meola jumped ship to launch a solo career.
What followed remains some of the finest jazz fusion guitar-based recordings ever: 1976's Land of the Midnight Sun, 1977's Elegant Gypsy (which would eventually earn gold certification in the U.S.), and Casino, plus 1979's Splendido Hotel. di Meola then united with fellow guitar greats John McLaughlin and Paco de Luc?a for 1980's Friday Night in San Francisco. Throughout the '80s and '90s, di Meola racked up numerous accolades (including earning yearly top honors in Guitar Player magazine polls), kept on issuing solo releases on a regular basis, and played with others, including releases by Stomu Yamash'ta, Paul Simon, Stanley Jordan, and David Matthews, as well as further work with such former bandmates as Corea, Clarke, de Luc?a, and McLaughlin.
During the '90s, di Meola turned his back almost entirely on fusion to concentrate more on acoustic-based world music, as evidenced by such releases as World Sinfonia, Di Meola Plays Piazzolla, and Heart of the Immigrants, among others. Since that time, di Meola has continued this eclectic approach with releases like 2003's Revisited, 2006's Consequence of Chaos, 2007's Diabolic Inventions and Seduction for Solo Guitar, Vol. 1: Music of Astor Piazzolla, and 2008's live album He and Carmen with flutist Eszter Horgas. In 2011, di Meola delivered the Latin and world music-infused studio album Pursuit of Radical Rhapsody, featuring bassist Charlie Haden and Cuban pianist Gonzalo Rubalcaba.
Artists:
- Al Di Meola: Guitar
- Mario Parmisano: Keyboards
- Joel Taylor: Drums
- Mike Pope: Bass
- Gumbi Ortiz: Percussions
Tracklist:
01. San Marco [4:52]
02. One Night Last June [10:39]
03. Azzura [3:44]
04. Mi Longa Del Angel [1:54]
05. Rhapsody of Fire [4:08]
06. Hypnose [3:51]
07. Red Moon [17:13]
08. Tena De Maria [5:31]
09. Tangata [5:06]
10. Double Concerto [9:41]
11. Tao [10:39]
12. Señor Mouse [11:51]
13. Fugata [10:19]
Extra:
Bonus video: Al's Guitar Tips
Commentary [In Conversation With Al Di Meola]:
- The Early Years
- The Beginning
- The Development of My Career
- Influences;
- Electric Vs. Acoustic Guitar
- Back to Electric Guitar
- Touring
Features:
- Direct Scene Access
- Interactive Menu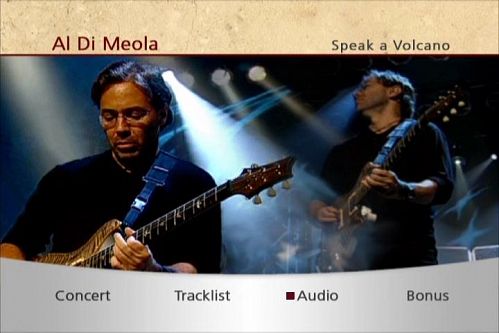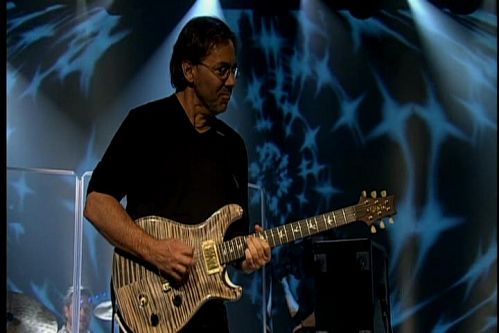 Zobacz inne moje newsy na
EXSite.pl
Informacje
Jeżeli chcesz skomentować artykuł musisz być zarejestrowany na stronie.