Witamy na EXSite.pl! Tutaj znajdziesz wszystko!
Darmowe filmy, darmowe gry, darmowe programy, darmowe mp3, albumy, szablony, tapety, style windows skins, darmowe filmy erotyczne, teledyski, eBooki, anime, darmowe seriale i wiele więcej... Wszystko za darmo!
The Charlatans - Live At Last (2005) DVD9
Dodał: rgajowy 24 Marzec 2013 19:20
The Charlatans - Live At Last (2005) DVD9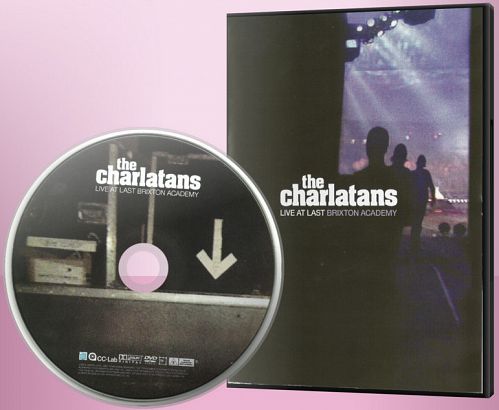 Video: PAL, MPEG-2 at 6 994 Kbps, 720 x 576 (2.370) at 25.000 fps | Audio: AC-3 2ch. at 224 Kbps, AC-3 6ch. at 448 Kbps, 48.0 KHz
Genre: Rock | Label: Direct Video Distribution Ltd. | Copy: Untouched | Release Date: 11 April 2005 | Runtime: 111 min. | 6,46 GB
For many years, the Charlatans were perceived as the also-rans of Madchester, the group that didn't capture the zeitgeist like the Stone Roses or the band that failed to match the mad genre-bending of the Happy Mondays. Of course, they were more traditional than either of their peers. Working from a Stonesy foundation, the Charlatans added dance-oriented rhythms and layers of swirling organs straight out of '60s psychedelia. At first, the Charlatans had great promise, and their initial singles including "The Only One I Know" were hits, but as Madchester and "baggy" faded away, the group began to look like a relic. It was commonly assumed that their third album, 1994's Up to Our Hips, was the end of the line. However, the Charlatans made a remarkable comeback in 1995 with their eponymous fourth album, which found them embracing not only the flourishing Brit-pop movement, but also underground dance and techno, as well as their mainstay of classic rock. The Charlatans UK debuted at number one, and the guys were hailed as survivors. Unfortunately, few knew how literal that term was as the band was recording its follow-up album in 1996, organist Rob Collins, who had defined the band's sound, died in a car crash. the Charlatans decided to continue as a quartet, and their subsequent album, Tellin' Stories, debuted at number one upon its 1997 release, suggesting that they had become one of the great British journeyman bands of the '90s. At the time of their formation in 1989, it appeared that the Charlatans were all about transience. Inspired by the emergence of the Stone Roses, Rob Collins (keyboards), Jon Baker (guitar), Martin Blunt (bass), and Jon Brookes (drums) formed the Charlatans, rehearsing with a variety of vocalists before Tim Burgess joined as their singer. The group attempted to land a record contract with no success, so they formed Dead Dead Good Records and released their debut 12" single, "Indian Rope," in January 1990. Collins' dynamic, sweeping Hammond organ distinguished the group from their Madchester peers, and the single became a number one hit on the indie charts. By the spring, they'd signed with Beggars Banquet, releasing "The Only One I Know" a few months later. Borrowing heavily from the Stones, jangle pop, and funk, "The Only One I Know" became a monster hit, climbing into the pop Top Ten and becoming the group's signature single. Following another hit single, "Then," the band's debut album, Some Friendly, was released in the fall, debuting at number one. It was a remarkable beginning to their career, so perhaps it was inevitable that bad luck hit early in 1991. As they launched their first American tour, the Charlatans were forced to add "U.K." to their name since a San Franciscan garage rock band from the '60s already had a claim on the name. The group returned to Britain, where they played a concert at the Royal Albert Hall. Following the gig, Baker announced he was leaving the group. He was replaced by Mark Collins (no relation), yet the group was sidetracked further by Blunt's bout with severe depression. By the time the group finally released their second album, Between 10th and 11th, Madchester had become pass?, and the album was ignored by the public and earned mixed reviews. Despite their declining popularity, the Charlatans soldiered on, yet hit their biggest setback in late 1992, when Rob Collins was arrested as an accessory to armed robbery. The situation had been entirely accidental Collins had been drinking with an old friend and wound up following him into a liquor store but he was sentenced to eight months imprisonment. Before he went into jail, he laid down the tracks for the band's third album, which was released in early 1994, once he had left prison. Up to Our Hips received stronger reviews than its predecessor, and its single, "Can't Get Out of Bed," was a bigger hit than anything on Between 10th and 11th. It was the beginning of a comeback that culminated in the summer of 1995.
Prior to the release of the group's eponymous third album, Tim Burgess sang on the Chemical Brothers' "Life Is Sweet," which re-established his hip indie credentials and gave him, and the Charlatans, credibility in electronica circles. Appropriately, The Charlatans UK demonstrated a deeper dance sensibility, as well as more concise tunes, and it unexpectedly entered the British charts at number one. Following the release of the album, the Charlatans re-entered the front rank of British rock bands and were at the peak of their popularity, as well as critical acclaim. The group was still unable to crack the American market initially, they were barred from touring the country due to Collins' arrest yet they remained popular throughout Europe and Asia.
As the band was recording its follow-up to The Charlatans UK, Collins was killed in a drunk-driving accident as he headed to the studio. Although Collins was pivotal to the band's signature sound, they carried on without him, completing their fifth album, Tellin' Stories, with the assistance of Primal Scream's keyboardist, Martin Duffy. Tellin' Stories was released in the U.K. in the spring of 1997 to generally strong reviews, and it entered the charts at number one. Two years later, Us and Us Only came out, followed in 2001 by the dance-inspired Wonderland. The next year saw two releases, Live It Like You Love It, recorded live in the band's hometown in December 2001, and Songs from the Other Side, a collection of B-sides from 1990-1997. the Charlatans' eighth studio album, Up at the Lake, was issued in 2004, and two years later, Simpatico hit the shelves. In 2008, the group released You Cross My Path on the Cooking Vinyl label.
In 2010, the band marked the 20th anniversary of the release of Some Friendly by performing the album at Barcelona's Primavera Sound Festival. Their 11th studio album, Who We Touch, was slated for release in September of 2010. During the supporting tour for Who We Touch, drummer Jon Brookes was diagnosed with a brain tumor; Peter Salisbury helped finish off the tour, but Brookes showed up at year-end gigs with the band. Burgess and Collins did a brief acoustic tour on their own in 2011 before Burgess began work for a solo album. He returned to the Charlatans in 2012, with the group starting a new album and playing their 1997 album Tellin' Stories in its entirety at two separate shows that summer; the June 8 show at HMV Hammersmith Apollo, London was released as a live album that August.
Artists: Charlatans
- Tim Burgess: Vocals
- John Brookes: Drums
- Mark Collins: Guitar
- Tony Rogers: Keyboards
- Martin Blunt: Bass
Tracklist:
01. Opening [1:33]
02. Forever [6:49]
03. Up at the Lake [3:38]
04. Apples and Oranges [4:56]
05. Toothache [5:06]
06. Tellin' Stories [4:48]
07. Feel the Pressure [3:45]
08. One to Another [4:59]
09. A Man Needs to Be Told [4:53]
10. My Beautiful Friend [4:36]
11. Impossible [5:32]
12. Can't Even Be Bothered [4:02]
13. Crashin' In [4:42]
14. You're So Pretty [4:51]
15. North Country Boy [3:51]
16. Weirdo [3:41]
17. How High [3:36]
18. Lovin' You Is Easy [3:49]
19. Try Again Today [3:42]
20. Love Is the Key [4:20]
21. The Only One I Know [4:28]
22. Sproston Green [10:19]
23. Credits [1:06]
Extra:
- 10 Minute Documentary Including Interviews And Outtakes
Features:
- Direct Scene Access
- Interactive Menu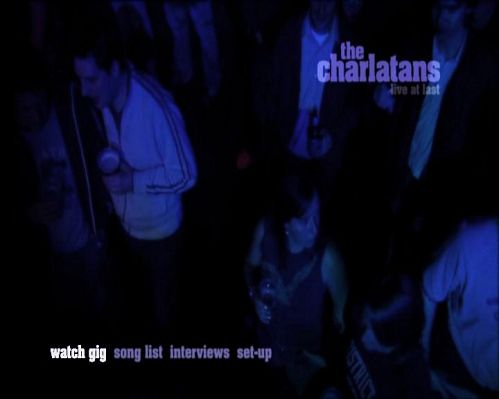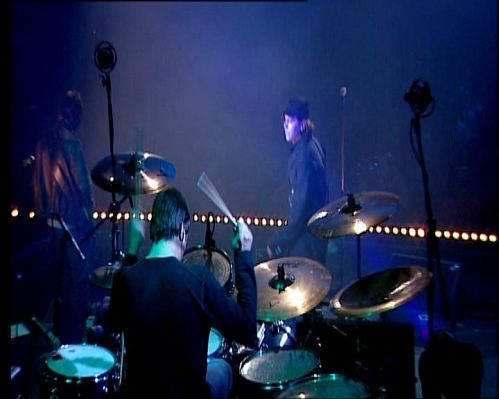 Zobacz inne moje newsy na
EXSite.pl
Informacje
Jeżeli chcesz skomentować artykuł musisz być zarejestrowany na stronie.