Witamy na EXSite.pl! Tutaj znajdziesz wszystko!
Darmowe filmy, darmowe gry, darmowe programy, darmowe mp3, albumy, szablony, tapety, style windows skins, darmowe filmy erotyczne, teledyski, eBooki, anime, darmowe seriale i wiele więcej... Wszystko za darmo!
Richard Galliano - Acoustic Trio (2009) DVD5
Dodał: rgajowy 27 Marzec 2013 10:51
Richard Galliano - Acoustic Trio (2009) DVD5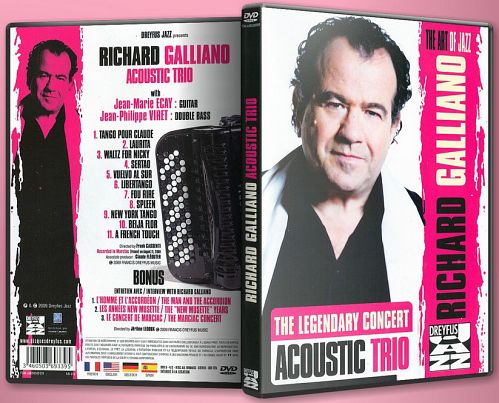 Video: NTSC, MPEG-2 at 6 200 Kbps, 720 x 480 (1.333) at 29.970 fps | Audio: AC-3 2 channels at 224 Kbps, 48.0 KHz
Genre: Jazz, World Music | Label: Dreyfus | Copy: Untouched | Release Date: 24 May 2009 | Runtime: 100 min. | 3,70 GB
Subtitles: German, English, Spanish
Acclaimed tango and world fusion accordionist Richard Galliano headlines this 2009 performance film, in a trio that also includes double bassist Jean-Philippe Viret and Jean-Marie Ecay. Featured selections include: " Sertao," " Waltz for Nicky," "Spleen" and "Libertango." Accordionist Richard Galliano did for European folk specifically, the early-20th-century French ballroom dance form known as musette what his mentor Astor Piazzolla did for the Argentinean tango. Galliano re-imagined and revitalized a musical tradition, expanding its emotional range to reflect modern sensibilities, and opening it up to improvisation learned through American jazz. In fact, Galliano was more of a jazz musician than a folk one, although he blurred the lines so much that distinctions were often difficult to make. Born in France of Italian stock, Galliano began playing accordion (as his father did) at a young age. He later picked up the trombone, and studied composition at the Academy in Nice; he also fell in love with jazz as a teenager, particularly cool-era Miles Davis and Clifford Brown, and made it his primary focus by the late '60s. Making a living as a jazz accordionist naturally proved difficult; fortunately, after moving to Paris in 1973, he landed a position as conductor, arranger, and composer for Claude Nougaro's orchestra. He remained there until 1976, and went on to work with numerous American and European jazz luminaries, including Chet Baker, Joe Zawinul, Toots Thielemans, Ron Carter, Michel Petrucciani, and Jan Garbarek. After meeting Astor Piazzolla, Galliano refocused on his European heritage, and set about reviving and updating musette, widely considered antiquated at the time. He signed with Dreyfus in 1993, and the label gave him enough exposure to cause a stir first in his home country, then among international jazz and world music fans. Regular recordings followed, some with clarinetist/soprano saxophonist Michel Portal, some with guitarist Jean Marie Ecay, some with his favorite rhythm section of bassist Jean-Fran?ois Jenny-Clark and drummer Daniel Humair (after Jenny-Clark's untimely death, R?mi Vignolo took his place). In 2001, Dreyfus released Gallianissimo, a compilation drawing from his seven albums for the label.
Artists:
- Richard Galliano: Accordion
- Jean Marie Ecay: Guitar
- Jean Philippe Viret: Double Bass
Tracklist:
01. Tango pour Claude 04:00 (Richard Galliano)
02. Laurita 06:43 (Richard Galliano)
03. Waltz For Nicky 05:34 (Richard Galliano)
04. Sertao 05:47 (Richard Galliano) Richard
05. Vuelvo Al Sur 06:41 (Astor Piazzolla)
06. Libertango 05:28 (Astor Piazzolla)
07. Fou Rire0 6:45 (Richard Galliano)
08. Spleen 05:39 (Richard Galliano)
09. New York Tango 04:18 (Richard Galliano)
10. Beija Flor 04:10 (Astor Piazzolla)
11. A French Touch 03:58 (Richard Galliano)
Features:
- Direct Scene Access
- Interactive Menu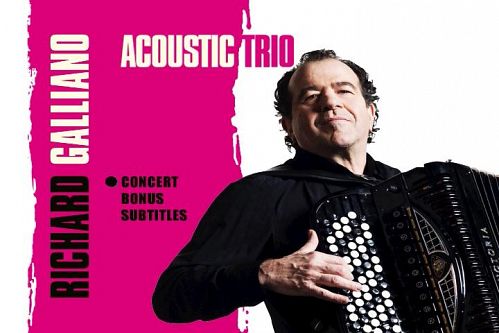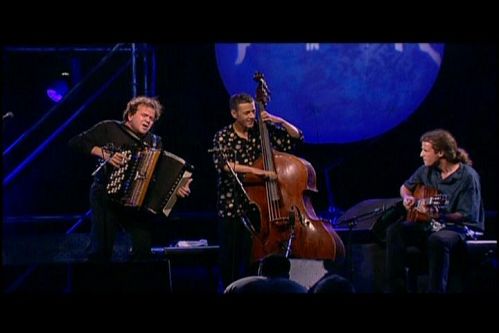 Zobacz inne moje newsy na
EXSite.pl
Informacje
Jeżeli chcesz skomentować artykuł musisz być zarejestrowany na stronie.