Witamy na EXSite.pl! Tutaj znajdziesz wszystko!
Darmowe filmy, darmowe gry, darmowe programy, darmowe mp3, albumy, szablony, tapety, style windows skins, darmowe filmy erotyczne, teledyski, eBooki, anime, darmowe seriale i wiele więcej... Wszystko za darmo!
Pavarotti - Barcelona (2001) DVD5
Dodał: rgajowy 29 Marzec 2013 23:00
Pavarotti - Barcelona (2001) DVD5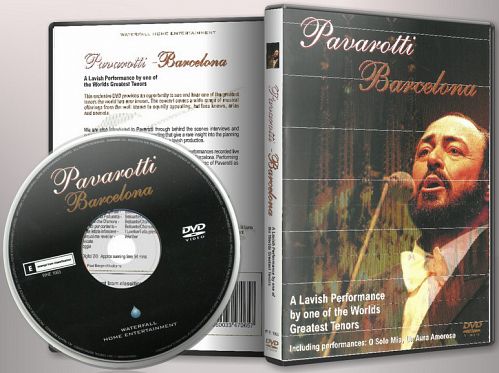 Video: PAL, MPEG-2 at 4 000 Kbps, 720 x 576 (1.333) at 25.000 fps | Audio: PCM 2 channels at 1 536 Kbps, 48.0 KHz
Genre: Classical | Label: Waterfall | Copy: Untouched | Release Date: 26 Nov 2001 | Runtime: 94 min. | 3,95 GB
One of the most successful and admired opera singers of all time, Luciano Pavarotti was king among tenors from the late 1960s through the 1990s. His voice was noted for its exciting upper register, and tailor-made for the operas of Verdi, Bellini, Donizetti, and Puccini, and as it darkened slightly over the years, for the verismo composers as well. His vocal longevity, which kept him singing youthfully well into his sixties, and still beautifully after that, was a credit to his commanding technique and artistry, and remarkable considering his nearly 40 years of performing.
Pavarotti's father was a baker, and his mother worked in a cigar factory. As a boy, he sang alto in the cathedral choir, and when his voice changed he joined the Modena city choir. He had brief careers as a schoolteacher and an insurance agent; during that time, his major extracurricular activity was not music but soccer, and his play made him a local star. However, increased involvement in the choir (which took prizes in international competitions) led him to pursue vocal studies, and he eventually settled on singing as his aspiration. Pavarotti studied voice with Arrigo Polo in Modena, then with Ettore Campogalliani in Mantua. His operatic debut was as Rodolfo in La Bohème in Reggio Emilia (April 19, 1961), and soon increasing success led to a debut in Amsterdam on January 18, 1963, as Edgardo in Lucia di Lammermoor. After singing the same role with Joan Sutherland in Miami in 1965, he was engaged to travel with her in the Sutherland Williamson International Grand Opera Company, touring Australia. In 1966 he appeared at Covent Garden as Tonio in La fille du r?giment, where his seemingly effortless handling of the nine successive high Cs in the aria "Pour mon ?me" sent his career into high orbit. He repeated the feat at the Metropolitan Opera in 1972, and for more than two decades after that he was a fixture on the operatic scene, appearing in nearly every major European and American house, and even China, where he performed Puccini's La bohème in the 1980s.
Pavarotti appeared in the first "Live from the Met" broadcast on the PBS network and was the most consistent draw on that series for years. His outstanding catalogue of recordings on the London (Decca) record label preserves nearly every role he ever performed and is hard to match for its quality and scope. His charity work included AIDS benefit concerts and world hunger gala events, as well as his "Pavarotti and Friends" concerts to benefit children, especially in the former Yugoslav states. He also founded a quadrennial contest to identify talented young singers and boost their careers. And, as one of the "Three Tenors," he brought operatic singing to a wider popular audience than previously might have been thought possible. In 2003 he released his first solo crossover CD, Ti adoro. He was diagnosed with cancer in 2006, yet remained positive and hopeful of still being able to record and perform until his death.
Tracklist:
01. Un 'Aura Amorosa [1:43]
02. La Promessa [:00]
03. La Danza [3:53]
04. Dolente Immagine Di Fille Mia [3:31]
05. Malinconia, Ninfa Gentile [3:24]
06. Vanne, O Rosa Fortuna [3:16]
07. Belle Niche Che D'Amore [2:01]
08. Ma Rendi Pur Contento [2:32]
09. La Mia Letizia Infondere [3:02]
10. Porquoi Me Reveiller [2:32]
11. Nevicata [2:59]
12. Pioggia [3:04]
13. Nebbie [2:24]
14. M' Appari Tutt' Amor [2:43]
15. Serenata [3:00]
16. Girometta [3:19]
17. Occhi Di Fata [3:45]
18. Recondita Armonia [2:33]
19. 'A Vucchella D' Annunzio [3:30]
20. Marechiare [2:46]
21. Donna Non Vidi Mai [3:22]
22. O Sole Mio [3:33]
23. Un Furtiva La Grima [2:57]
Features:
- Direct Scene Access
- Interactive Menu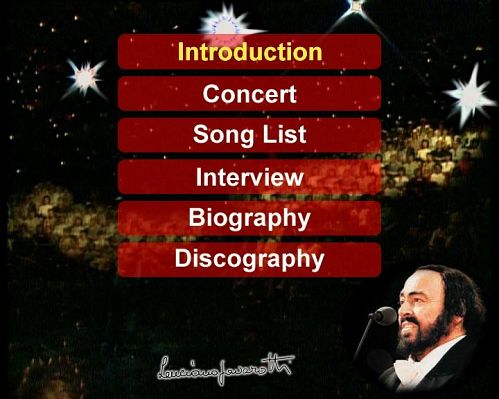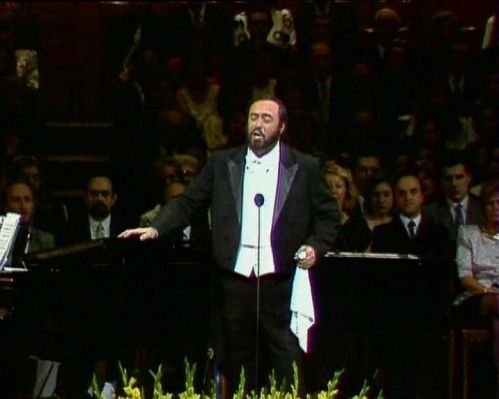 Zobacz inne moje newsy na
EXSite.pl
Informacje
Jeżeli chcesz skomentować artykuł musisz być zarejestrowany na stronie.