Witamy na EXSite.pl! Tutaj znajdziesz wszystko!
Darmowe filmy, darmowe gry, darmowe programy, darmowe mp3, albumy, szablony, tapety, style windows skins, darmowe filmy erotyczne, teledyski, eBooki, anime, darmowe seriale i wiele więcej... Wszystko za darmo!
Michel Petrucciani: Non Stop Travels With Michel Petrucciani / Trio Live In Stuttgart (2007) DVD9
Dodał: rgajowy 1 Kwiecień 2013 15:03
Michel Petrucciani: Non Stop Travels With Michel Petrucciani / Trio Live In Stuttgart (2007) DVD9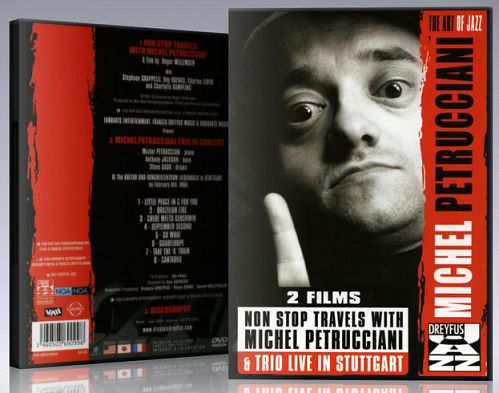 Video: NTSC, MPEG-2 at 5 898 Kbps, 720 x 480 (2.370) at 29.970 fps | Audio: PCM 2 channels at 1 536 Kbps, 48.0 KHz
Genre: Jazz | Label: Dreyfus Jazz | Copy: Untouched | Release Date: 29 Oct 2007 | Runtime: 118 min. | 6,56 GB
Subtitles: French, Japanese, English
The phenomenon that was pianist Michel Petrucciani (b. December 28th, 1962, d. January 6th, 1999) is brought to life by this double-feature DVD from Dreyfus Records. Containing the hour-long documentary (Non-Stop Travels With Michel Petrucciani) that aired on many PBS television stations and a concert performance (Michel Petrucciani Trio: Live In Concert) in Germany, this wonderful DVD brings clarity to the person and musician that was Petrucciani. The single strongest emotion that keeps pouring forth as Petrucciani speaks and plays is his enormous talent and forever optimistic and humorous demeanor trapped in a body with a degenerative bone disease that would fail him before he turned forty. His mind, musical and otherwise, and hands were gifts from God, and everyone who knew him or heard him play simply felt a strong connection to something inexplicable though no less extraordinary. This DVD includes other musicians, and in the documentary, Petrucciani tells his familiar story of traveling to California when he was teenager in the early eighties and meeting saxophonist Charles Lloyd, who had been retired from music for fifteen years. Lloyd asked Petrucciani to play, disappearing after listening for a short while. Petrucciani thought he had bored Lloyd, but Lloyd had gone to the basement to get his sax, and they played together until the early morning hours, bringing tears to the eyes of Lloyd's wife. Subsequently, Lloyd began touring with Petrucciani, and credits him with his returning to the music business. The documentary brings them together again almost twenty years later as they revive their friendship sitting in the tall grass of Big Sur. Woven into the documentary is a solo outdoor concert and a rehearsal for the recording session for Flamingo (Dreyfus, 1996), with violinist Stephane Grappelli, drummer Roy Haynes and bassist George Mraz. Both performances reinforce the energy that Petrucciani channeled into his playing.
While Petrucciani the man comes through vividly in the documentary, the concert with his trio of electric bassist Anthony Jackson and drummer Steve Gadd displays his enormous musicianship. Filmed with crystal visual clarity and great sound, Petrucciani entrances the full house of the Kultur Und Kongresszentrum Liederhalle in Stuttgart, Germany. Barely being able to see over the piano, and needing a pedal extension invented by his father, Petrucciani plays with intensity that pours out of the piano. Most apparent is his gift for making every note sing, even in the fastest passages, while tying it to an unerring sense of swing and a strong forward propulsion. The viewer will notice that he is relentlessly humorous in person yet utterly serious at the keyboard, giving each note and phrase a bounce that scintillates. Another strong point of Petrucciani's playing that comes through on the disc is its unpredictability, which exists, however, within a strong melodic and dramatic framework.
Those who know Petrucciani will find in this DVD a record of the artist at the height of his powers. For those who do not know this remarkable man, this is a fine place to start.
Artists:
- Michel Petrucciani: Piano
- Anthony Jackson: Bass
- Steve Gadd: Drums
Tracklist:
Trio Live In Stuttgart
1. Little Peace in C For U [08:06] (Michel Petrucciani)
2. Brazilian Like [07:13] (Michel Petrucciani)
3. Chlo? Meets Geshwin [06:36] (Michel Petrucciani)
4. September Second [06:27] (Michel Petrucciani)
5. So What [04:46] (Miles Davis)
6. Guadeloupe [07:11] (Michel Petrucciani)
7. Take The A Train [09:09] (Billy Strayhorn)
8. Cantabile [06:45] (Michel Petrucciani)
Non Stop Travels With Michel Petrucciani [58:09] - Documentary featuring the following songs:
- Bimini
- Brazilian Suite
- You Are My Waltz
- Waltz New
- She Did it Again
- Take The A Train
- Caravan
- Piango, Pay The Man
- My bebop tune
- Charlie Brown
- Flamingo
- Little Peace in C for U
- Lullaby
- Looking Up
Extra:
- Discography
Features:
- Direct Scene Access
- Interactive Menu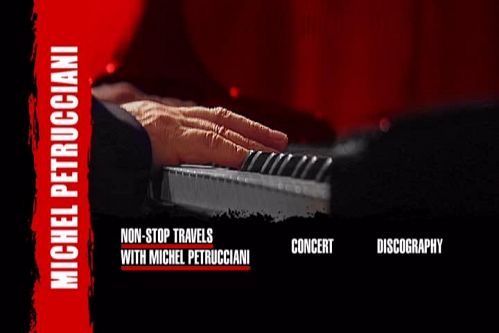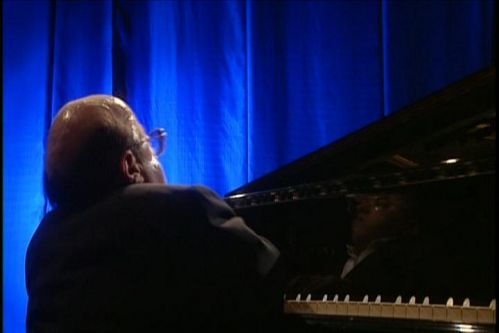 Zobacz inne moje newsy na
EXSite.pl
Informacje
Jeżeli chcesz skomentować artykuł musisz być zarejestrowany na stronie.