Witamy na EXSite.pl! Tutaj znajdziesz wszystko!
Darmowe filmy, darmowe gry, darmowe programy, darmowe mp3, albumy, szablony, tapety, style windows skins, darmowe filmy erotyczne, teledyski, eBooki, anime, darmowe seriale i wiele więcej... Wszystko za darmo!
Sting & Gil Evans: Strange Fruit - Live At Perugia Jazz Festival 11. 07.1987 (2006) DVD5
Dodał: rgajowy 20 Kwiecień 2013 22:50
Sting & Gil Evans: Strange Fruit - Live At Perugia Jazz Festival 11. 07.1987 (2006) DVD5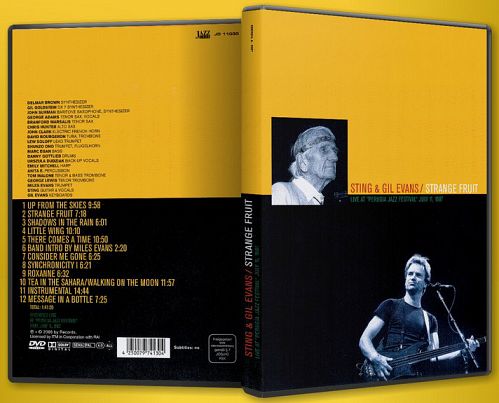 Video: PAL, MPEG Video at 5 000 Kbps, 720 x 576 (1.333) at 25.000 fps | Audio: AC-3 2 channels at 192 Kbps, 48.0 KHz
Genre: Jazz, Rock | Label: Quantum Leap | Copy: Untouched | Release Date: 13 Nov 2006 | Runtime: 101 min. | 3,81 GB
Sting - After disbanding the Police at the peak of their popularity in 1984, Sting quickly established himself as a viable solo artist, one obsessed with expanding the boundaries of pop music. Sting incorporated heavy elements of jazz, classical, and worldbeat into his music, writing lyrics that were literate and self-consciously meaningful, and he was never afraid to emphasize this fact in the press. For such unabashed ambition, he was equally loved and reviled, with supporters believing that he was at the forefront of literate, intelligent rock and his critics finding his entire body of work pompous. Either way, Sting remained one of pop's biggest superstars for the first ten years of his solo career, before his record sales began to slip.
Before the Police were officially disbanded, Sting began work on his first solo album late in 1984, rounding up a group of jazz musicians as a supporting band. Moving from bass to guitar, he recorded his solo debut, 1985's The Dream of the Blue Turtles, with Branford Marsalis, Kenny Kirkland, and Omar Hakim. The move wasn't entirely unexpected, since Sting had played with jazz and progressive rock bands in his youth, but the result was considerably more mature and diverse than any Police record. The album became a hit, with "If You Love Somebody Set Them Free," "Love Is the Seventh Wave," and "Fortress Around Your Heart" reaching the American Top Ten. Sting brought the band out on an extensive tour and filmed the proceedings for a 1986 documentary called Bring on the Night, which appeared alongside a live double album of the same name. That year, Sting participated in a half-hearted Police reunion that resulted in only one new song, a re-recorded version of "Don't Stand So Close to Me."
Following the aborted Police reunion, Sting began working on the ambitious Nothing Like the Sun, which was dedicated to his recently deceased mother. Proceeding from a jazz foundation, and again collaborating with Marsalis, Sting worked with a number of different musicians on the album, including Gil Evans and former Police guitarist Andy Summers. The album received generally positive reviews upon its release in late 1987, and it generated hit singles with "We'll Be Together" and "They Dance Alone." Following its release, Sting began actively campaigning for Amnesty International and environmentalism, establishing the Rainforest Foundation, which was designed to raise awareness about preserving the Brazilian rainforest. An abridged Spanish version of Nothing Like the Sun, Nada Como el Sol, was released in 1988.
Sting took several years to deliver the follow-up to Nothing Like the Sun, during which time he appeared in a failed Broadway revival of The Threepenny Opera in 1989. His father also died, which inspired 1991's The Soul Cages, a dense, dark, and complex album. Although the album peaked at number two and spawned the Top Ten hit "All This Time," the record was less successful than its predecessor. Two years later, he delivered Ten Summoner's Tales, a light, pop-oriented record that became a hit on the strength of two Top 20 singles, "If I Ever Lose My Faith in You" and "Fields of Gold." At the end of 1993, "All for Love," a song he recorded with Rod Stewart and Bryan Adams for The Three Musketeers, became a number one hit. The single confirmed that Sting's audience had shifted from new wave/college rock fans to adult contemporary, and the 1994 compilation Fields of Gold: The Best of Sting played to that new fan base.
Three years after Ten Summoner's Tales, Sting released Mercury Falling in the spring of 1996. Although the album debuted highly, it quickly fell down the charts, stalling at platinum sales and failing to generate a hit single. Although the album failed, Sting remained a popular concert attraction, a feat that confirmed his immense popularity regardless of his chart status. Released in 1999, Brand New Day turned his commercial fortunes around in a big way, though, eventually going triple-platinum and earning two Grammy Awards. Issued in 2003, Sacred Love also did well, and Sting spent several years with the reunited Police before returning to his solo game for 2009's If on a Winter's Night.... One year later, he hit the road alongside the Royal Philharmonic Concert Orchestra, who added their own symphonic arrangements to his material. Symphonicities, a companion CD, and Live in Berlin, released in conjunction with the world tour, arrived that same year.
Gil Evans - One of the most significant arrangers in jazz history, Gil Evans' three album-length collaborations with Miles Davis (Miles Ahead, Porgy and Bess, and Sketches of Spain) are all considered classics. Evans had a lengthy and wide-ranging career that sometimes ran parallel to the trumpeter. Like Davis, Gil became involved in utilizing electronics in the '70s and preferred not to look back and re-create the past. He led his own band in California (1933-1938) which eventually became the backup group for Skinnay Ennis; Evans stayed on for a time as arranger. He gained recognition for his somewhat futuristic charts for Claude Thornhill's Orchestra (1941-1942 and 1946-1948) which took advantage of the ensemble's cool tones, utilized French horns and a tuba as frontline instruments, and, by 1946, incorporated the influence of bop. He met Miles Davis (who admired his work with Thornhill) during this time and contributed arrangements of "Moon Dreams" and "Boplicity" to Davis' "Birth of the Cool" nonet.
After a period in obscurity, Evans wrote for a Helen Merrill session and then collaborated with Davis on Miles Ahead. In addition to his work with Davis (which also included a 1961-recorded Carnegie Hall concert and the half-album Quiet Nights), Evans recorded several superb and highly original sets as a leader (including Gil Evans & Ten, New Bottle Old Wine, and Great Jazz Standards) during the era. Among the albums he worked on in the '60s for other artists were notable efforts with Kenny Burrell and Astrud Gilberto. After his own sessions for Verve during 1963-1964, Evans waited until 1969 until recording again as a leader. That year's Blues in Orbit was his first successful effort at combining acoustic and electric instruments; it would be followed by dates for Artists House, Atlantic (Svengali), and a notable tribute to Jimi Hendrix in 1974. After 1975's There Comes a Time (which features among its sidemen David Sanborn), most of Evans' recordings were taken from live performances. Starting in 1970 he began playing with his large ensemble on a weekly basis in New York clubs. Filled with such all-star players as George Adams, Lew Soloff, Marvin "Hannibal" Peterson, Chris Hunter, Howard Johnson, Pete Levin, Hiram Bullock, Hamiet Bluiett, and Arthur Blythe among others, Evans' later bands were top-heavy in talent but tended to ramble on too long. Gil Evans, other than sketching out a framework and contributing his keyboard, seemed to let the orchestra largely run itself, inspiring rather than closely directing the music. There were some worthwhile recordings from the '80s (when the band had a long string of Monday night gigs at Sweet Basil in New York) but in general they do not often live up to their potential. Prior to his death, Gil Evans recorded with his "arranger's piano" on duets with Lee Konitz and Steve Lacy and his body of work on a whole ranks with the top jazz arrangers.
Artists:
Sting - guitar, vocals
Gil Evans - keyboards
Delmar Brown - synthesizer
Gil Goldstein - DX 7 Synthesizer
John Surman - baritone saxophone, synthesizer
George Adams - tenor saxophone, vocals
Brandfrod Marsalis - tenor saxophone
Chris Hunter - alto saxophone
John Clark - electric french horn
David Bourgeron - tuba, trombone
Lew Soloff - lead trumpet
Shunzo Ono - trumpet, flugelhorn
Marc Egan - bass
Danny Gottlieb - drums
Urszula Dudziak - back-up vocals
Emily Mitchell - harp
Anita E. - percussion
Tom Malone - tenor & bass trombone
George Lewis - tenor trombone
Miles Evans - trumpet
Tracklist:
01. Up From The Skies
02. Strange Fruit
03. Shadows In The Rain
04. Little Wing
05. There Comes A Time
06. Band Intro By Miles Evans
07. Considerer Me Gone
08. Synchronicity
09. Roxanne
10. Tea In The Sahara / Walking On The Moon
11. Instrumental
12. Message In A Bottle
Features:
- Direct Scene Access
- Interactive Menu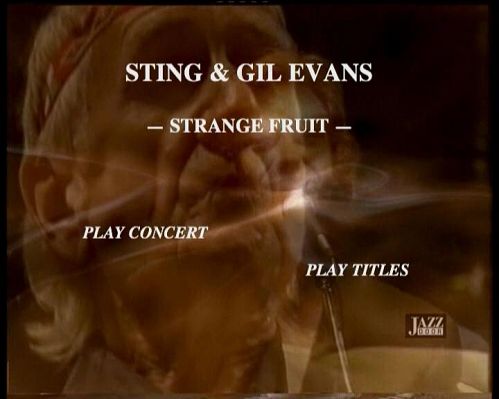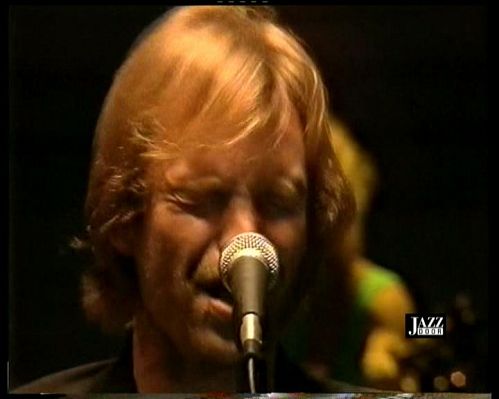 Zobacz inne moje newsy na
EXSite.pl
Informacje
Jeżeli chcesz skomentować artykuł musisz być zarejestrowany na stronie.