Witamy na EXSite.pl! Tutaj znajdziesz wszystko!
Darmowe filmy, darmowe gry, darmowe programy, darmowe mp3, albumy, szablony, tapety, style windows skins, darmowe filmy erotyczne, teledyski, eBooki, anime, darmowe seriale i wiele więcej... Wszystko za darmo!
Dave Matthews Band - Live At Folsom Field Boulder Colorado (2002) DVD9
Dodał: rgajowy 21 Kwiecień 2013 00:39
Dave Matthews Band - Live At Folsom Field Boulder Colorado (2002) DVD9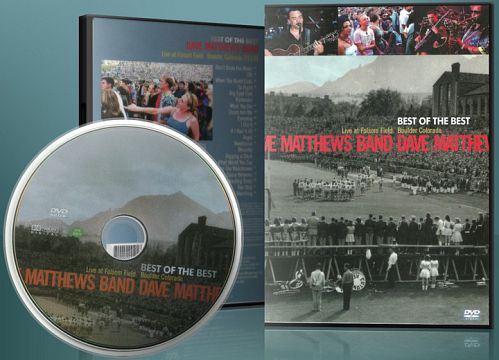 Video: NTSC, MPEG-2 at 6 335 Kbps, 720 x 480 (1.333) at 29.970 fps | Audio: AC-3 6ch. at 448 Kbps, AC-3 2ch. at 384 Kbps, 48.0 KHz
Genre: Rock | Label: RCA | Copy: Untouched | Release Date: 5 Nov 2002 | Runtime: 148 min. | 7,34 GB
42,000 fans witnessed Dave Matthews Band brave the elements for this outdoor show in Boulder, Colorado in 2001, and now you can join them from the comfort of your own home. A huge electrical storm threatened to pull the show to a halt before it had even started, but nevertheless the show went ahead, and saw the band perform electric version of songs from the "Everyday" album, as well as thunderous hits like "The Space Between" and "What You Are."
Formed in the early '90s by South African vocalist/guitarist Dave Matthews, the Dave Matthews Band presented a more pop-oriented version of the Grateful Dead crossed with elements of jazz, funk, and the worldbeat explorations of Paul Simon and Sting. Matthews populated the group with several Virginia-based musicians bassist Stefan Lessard, saxophonist Leroi Moore, violinist Boyd Tinsley, drummer Carter Beauford, and short-lived keyboardist Peter Griesar and the band built up a strong word-of-mouth buzz by touring the country constantly, with special attention paid to college campuses. Griesar left the lineup in March 1993, but the Dave Matthews Band moved ahead in his absence, releasing the independent album Remember Two Things later that year and issuing a live EP, Recently, in 1994. After fielding offers from major labels, the band signed with RCA and released the debut effort Under the Table and Dreaming in September 1994. By the following spring, the record had launched the hit single "What Would You Say" and sold over one million copies, thus setting the stage for an extremely successful career.
A year and a half after the release of Under the Table and Dreaming, the record had sold over four million copies in the U.S. alone, propelled in part by the success of "Ants Marching" and "Satellite." the Dave Matthews Band responded by releasing 1996's Crash, which entered the charts at number two and quickly went platinum. The group spent the bulk of 1996 touring in support of the eclectic album, which reached multi-platinum status and spun off five successful singles, including the Grammy-nominated "Crash into Me." That same year, Matthews launched an attack on bootleggers in conjunction with the federal government, targeting stores that were selling semi-legal discs of live performances. The efforts of Matthews, his band, and his management resulted in an unprecedented crackdown on for-profit bootleggers in early 1997 with nearly all of the major foreign bootlegging companies placed under arrest by the United States thereby putting a moratorium on the entire underground industry.
To further combat the bootleggers, the Dave Matthews Band released an official double-disc live album, Live at Red Rocks 8.15.95, in the fall of 1997. It was an unexpected success, debuting at number three on the charts and selling a million copies within the first five months of its release. The live record paved the way for a string of future DMB concert recordings; it also drummed up support for the April 1998 release of Before These Crowded Streets, the group's most ambitious album to date. Another two-disc live effort, Listener Supported, followed one year later, and summer tours kept the band busy as the decade drew to a close.
The new millennium, however, saw the band returning to the studio with producer Glen Ballard to record a fourth studio album, Everyday, which was issued in February 2001. Although notable for its slick, mainstream-minded sound not to mention the presence of electric guitar, which Matthews had never used on previous albums it was overshadowed by rumors of a darker album that had been recorded with Steve Lillywhite in 2000. Although the original album was rejected, the band eventually chose songs from those sessions, re-recorded several others, and released the results in July 2002 as Busted Stuff. Its debut single, "Where Are You Going," fared well on national radio, and the band rounded out 2002 with the release of Live at Folsom Field in November.
Several years after releasing Live at Luther College, a concert album that did not feature his band, Dave Matthews released his first proper solo album in 2003. The moody and brooding Some Devil was supported by a "Dave Matthews & Friends" tour the "friends" being Trey Anastasio, Brady Blade, Tony Hall, Ray Paczkowski, and Tim Reynolds and the album's chief single, "Gravedigger," earned Matthews a Grammy Award for Best Male Rock Vocal Performance. Boyd Tinsley also released a solo album that year, but the Dave Matthews Band reconvened shortly thereafter, releasing two additional live albums (The Central Park Concert, The Gorge) and returning to the road in 2004. The bandmates also joined Bruce Springsteen's Vote for Change tour toward the end of the year, just as their mail-order-only DMB Live Trax series debuted. In early 2005, they launched a website that featured progress reports on their next album in the form of video footage, diaries, and soundbites. When the flawed Stand Up finally appeared in May, it was the band's first album of all-new material since 2001's Everyday. Like its three predecessors, Stand Up topped the charts, making DMB the only band other than U2 and Metallica to score four consecutive number one albums.
Weekend on the Rocks, another live set, followed Stand Up at the end of 2005, and a two-disc compilation entitled The Best of What's Around, Vol. 1 collected studio material and unreleased live recordings one year later. Matthews and Tim Reynolds launched another joint tour in 2007, canvassing Europe and North America in the process. A performance from the latter continent was featured on the album Live at Radio City Music Hall, which served as a companion piece to 1999's Luther College. Meanwhile, the Dave Matthews Band released their own concert album, Live at Piedmont Park, and began working on new material, although the project was temporarily shelved during pre-production as the band diverted its focus to touring.
The musicians returned to the studio the following year, but Leroi Moore unfortunately passed away before the record could be completed. The saxophonist had suffered a serious ATV accident in June and ultimately succumbed to his injuries two months later. Former B?la Fleck saxophonist Jeff Coffin joined in his place, and the band heralded his inclusion with the release of Live at the Mile High Music Festival, a three-disc set capturing a Colorado performance from that summer. Early the following year, the Dave Matthews Band paid tribute to Moore with the release of Big Whiskey & the GrooGrux King. The three-CD/one-DVD set Europe 2009, which chronicled a July 5, 2009 show in Lucca, Italy (CD) and a June 26, 2009 show at O2 Academy Brixton in London (DVD) arrived in December 2009. Additional performances were documented on 2010's Live in New York City and 2011's Live at Wrigley Field, the latter of which was released during the band's 20th anniversary. the Dave Matthews Band's seventh studio album, Away from the World, released in 2012, found them reuniting with producer Steve Lillywhite, who produced the band's first three studio albums.
Artists: Dave Matthews Band
- Dave Matthews: Vocals, Guitar
- Stefan Lessard: Bass
- Leroi Moore: Sax
- Boyd Tinsley: Violin
- Butch Taylor: Keyboards
- Carter Beauford: Drums, Percussions, Backing Vocals
Tracklist:
01. Don't Drink the Water [1:22]
02. JTR [7:02]
03. When the World Ends [6:48]
04. So Right [3:59]
05. Big Eyed Fish [6:06]
06. Bartender [7:01]
07. What You Are [11:25]
08. Crash Into Me [5:16]
09. Everyday [5:59]
10. I Did It [8:44]
11. If I Had it All [3:50]
12. Angel [4:23]
13. Warehouse [:09]
14. Recently [14:45]
15. Digging a Ditch [9:08]
16. What Would You Say [4:13]
17. All Along the Watchtower [4:58]
18. The Space Between [4:40]
19. Stay (Wasting Time) [9:13]
20. Two Step [5:08]
21. Ants Marching [5:40]
Features:
- Direct Scene Access
- Interactive Menu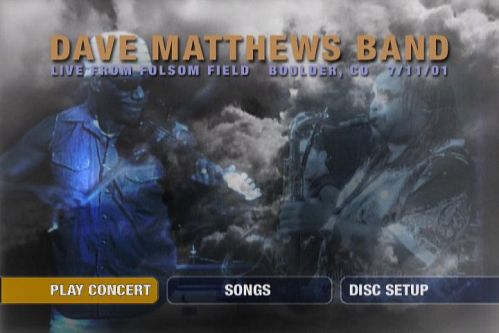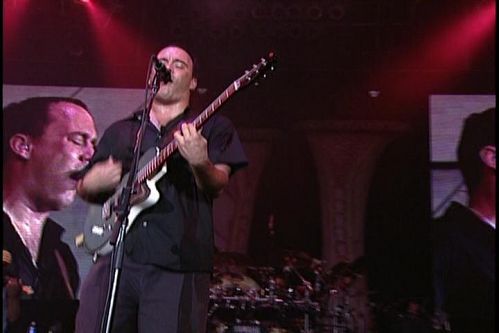 Zobacz inne moje newsy na
EXSite.pl
Informacje
Jeżeli chcesz skomentować artykuł musisz być zarejestrowany na stronie.