Witamy na EXSite.pl! Tutaj znajdziesz wszystko!
Darmowe filmy, darmowe gry, darmowe programy, darmowe mp3, albumy, szablony, tapety, style windows skins, darmowe filmy erotyczne, teledyski, eBooki, anime, darmowe seriale i wiele więcej... Wszystko za darmo!
Ella Fitzgerald & Count Basie - Ella Meets Count Live (2007) DVD5
Dodał: rgajowy 27 Kwiecień 2013 19:50
Ella Fitzgerald & Count Basie - Ella Meets Count Live (2007) DVD5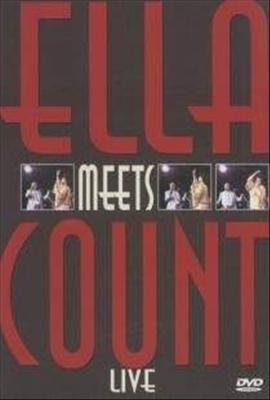 Video: PAL, MPEG Video at 6 000 Kbps, 720 x 576 (1.333) at 25.000 fps | Audio: AC-3 6 channels at 384 Kbps, 48.0 KHz
Genre: Jazz | Label: Delta Home Entertainment | Copy: Untouched | Release Date: 15 Jan 2007 | Runtime: 78 min. | 3,88 GB
Classic performances by Ella Fitzgerald, the queen of the jazz/soul singers backed up by one of the biggest of the big band leaders, Count Basie, and his illustrious orchestra.
"The First Lady of Song," Ella Fitzgerald was arguably the finest female jazz singer of all time (although some may vote for Sarah Vaughan or Billie Holiday). Blessed with a beautiful voice and a wide range, Fitzgerald could outswing anyone, was a brilliant scat singer, and had near-perfect elocution; one could always understand the words she sang. The one fault was that, since she always sounded so happy to be singing, Fitzgerald did not always dig below the surface of the lyrics she interpreted and she even made a downbeat song such as "Love for Sale" sound joyous. However, when one evaluates her career on a whole, there is simply no one else in her class.
One could never guess from her singing that Ella Fitzgerald's early days were as grim as Billie Holiday's. Growing up in poverty, Fitzgerald was literally homeless for the year before she got her big break. In 1934, she appeared at the Apollo Theater in Harlem, winning an amateur contest by singing "Judy" in the style of her idol, Connee Boswell. After a short stint with Tiny Bradshaw, Fitzgerald was brought to the attention of Chick Webb by Benny Carter (who was in the audience at the Apollo). Webb, who was not impressed by the 17-year-old's appearance, was reluctantly persuaded to let her sing with his orchestra on a one-nighter. She went over well and soon the drummer recognized her commercial potential. Starting in 1935, Fitzgerald began recording with Webb's Orchestra, and by 1937 over half of the band's selections featured her voice. "A-Tisket, A-Tasket" became a huge hit in 1938 and "Undecided" soon followed. During this era, Fitzgerald was essentially a pop/swing singer who was best on ballads while her medium-tempo performances were generally juvenile novelties. She already had a beautiful voice but did not improvise or scat much; that would develop later.
On June 16, 1939, Chick Webb died. It was decided that Fitzgerald would front the orchestra even though she had little to do with the repertoire or hiring or firing the musicians. She retained her popularity and when she broke up the band in 1941 and went solo; it was not long before her Decca recordings contained more than their share of hits. She was teamed with the Ink Spots, Louis Jordan, and the Delta Rhythm Boys for some best-sellers, and in 1946 began working regularly for Norman Granz's Jazz at the Philharmonic. Granz became her manager although it would be nearly a decade before he could get her on his label. A major change occurred in Fitzgerald's singing around this period. She toured with Dizzy Gillespie's big band, adopted bop as part of her style, and started including exciting scat-filled romps in her set. Her recordings of "Lady Be Good," "How High the Moon," and "Flying Home" during 1945-1947 became popular and her stature as a major jazz singer rose as a result. For a time (December 10, 1947-August 28, 1953) she was married to bassist Ray Brown and used his trio as a backup group. Fitzgerald's series of duets with pianist Ellis Larkins in 1950 (a 1954 encore with Larkins was a successful follow-up) found her interpreting George Gershwin songs, predating her upcoming Songbooks series.
After appearing in the film Pete Kelly's Blues in 1955, Fitzgerald signed with Norman Granz's Verve label and over the next few years she would record extensive Songbooks of the music of Cole Porter, the Gershwins, Rodgers & Hart, Duke Ellington, Harold Arlen, Jerome Kern, and Johnny Mercer. Although (with the exception of the Ellington sets) those were not her most jazz-oriented projects (Fitzgerald stuck mostly to the melody and was generally accompanied by string orchestras), the prestigious projects did a great deal to uplift her stature. At the peak of her powers around 1960, Fitzgerald's hilarious live version of "Mack the Knife" (in which she forgot the words and made up her own) from Ella in Berlin is a classic and virtually all of her Verve recordings are worth getting.
Fitzgerald's Capitol and Reprise recordings of 1967-1970 are not on the same level as she attempted to "update" her singing by including pop songs such as "Sunny" and "I Heard It Through the Grapevine," sounding quite silly in the process. But Fitzgerald's later years were saved by Norman Granz's decision to form a new label, Pablo. Starting with a Santa Monica Civic concert in 1972 that is climaxed by Fitzgerald's incredible version of "C Jam Blues" (in which she trades off with and "battles" five classic jazzmen), Fitzgerald was showcased in jazz settings throughout the 1970s with the likes of Count Basie, Oscar Peterson, and Joe Pass, among others. Her voice began to fade during this era and by the 1980s her decline due to age was quite noticeable. Troubles with her eyes and heart knocked her out of action for periods of time, although her increasingly rare appearances found Fitzgerald still retaining her sense of swing and joyful style.
Tracklist:
01. Introduction
02. Please Don`t Talk About Me When I`m Gone
03. Sweet Georgia Brown
04. Some Other Spring
05. Make Me Rainbows
06. After You`ve Gone
07. Round Midnight
08. Dindi
09. Fine & Mellow
10. (I Don`t Stand) - A Ghost Of A Chance With Yo
11. Flying Home
12. You`ve Changed
13. Honeysuckle Rose
14. St. Louis Blues
15. A Tisket, A Tasket
16. I`ve Got A Crush On You
17. The Lonesome Road - Duet with Andy Williams
18. In Harmony Together (Instrumental)
Features:
- Direct Scene Access
- Interactive Menu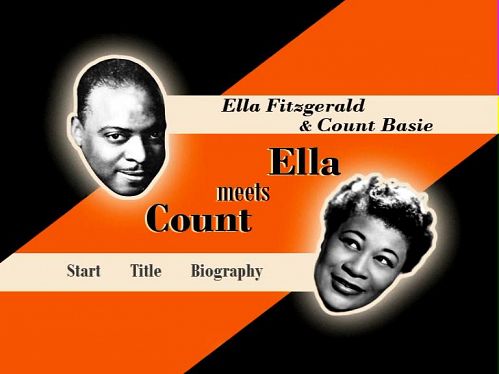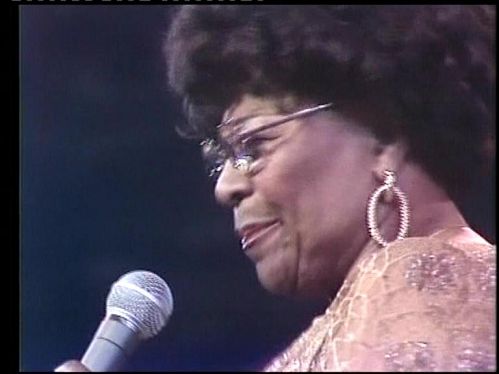 Zobacz inne moje newsy na
EXSite.pl
Informacje
Jeżeli chcesz skomentować artykuł musisz być zarejestrowany na stronie.