Witamy na EXSite.pl! Tutaj znajdziesz wszystko!
Darmowe filmy, darmowe gry, darmowe programy, darmowe mp3, albumy, szablony, tapety, style windows skins, darmowe filmy erotyczne, teledyski, eBooki, anime, darmowe seriale i wiele więcej... Wszystko za darmo!
Various Artists - Legends Of The Delta Blues (2003) DVD5
Dodał: rgajowy 28 Kwiecień 2013 14:08
Various Artists - Legends Of The Delta Blues (2003) DVD5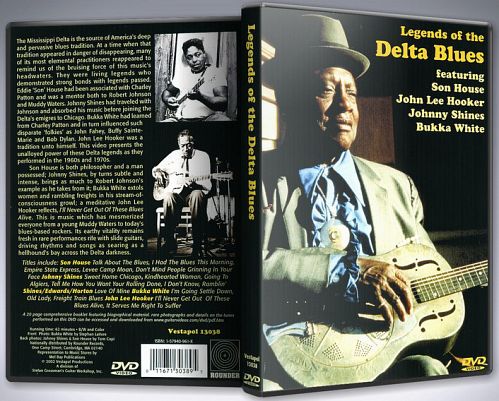 Video: NTSC, MPEG-2 at 6 500 Kbps, 720 x 480 (1.333) at 29.970 fps | Audio: AC-3 2 channels at 224 Kbps, 48.0 KHz
Genre: Blues | Label: Vestapol | Copy: Untouched | Release Date: 12 Mar 2003 | Runtime: 62 min. | 2,99 GB
The Mississippi Delta is the source of America's deep and pervasive blues tradition. At a time when that tradition appeared in danger of disappearing, many of its most elemental practitioners reappeared to remind us of the bruising force of this music's headwaters. They were living legends who demonstrated strong bonds with legends passed. Eddie 'Son' House had been associated with Charley Patton and was a mentor both to Robert Johnson and Muddy Waters. Johnny Shines had traveled with Johnson and absorbed his music before joining the Delta's ?migr?s to Chicago. Bukka White had learned from Charley Patton and in turn influenced such disparate 'folkies' as John Fahey, Buffy Sainte-Marie and Bob Dylan. John Lee Hooker was a tradition unto himself. This video presents the unalloyed power of these Delta legends as they performed in the 1960s and 1970s.
Son House is both philosopher and a man possessed; Johnny Shines, by turns subtle and intense, brings as much to Robert Johnson's example as he takes from it; Bukka White extols women and rambling freights in his stream-of-consciousness growl; a meditative John Lee Hooker reflects, I'll Never Get Out Of these blues Alive. This is music which has mesmerized everyone from a young Muddy Waters to today's blues-based rockers. Its earthy vitality remains fresh in rare performances rife with slide guitars, driving rhythms and songs as searing as a hellhound's bay across the Delta darkness.
Artists:
- Son House: Guitar, Vocals, Slide Guitar
- Bukka White: Guitar, Harmonica, Piano, Vocals, Slide Guitar
- John Lee Hooker: Guitar, Vocals
- Johnny Shines: Guitar, Vocals
- Big Walter Horton: Harmonica
- David Edwards: Slide Guitar
Tracklist:
01. Intro [0:21]
02. Son House - Talk About the Blues [1:38]
03. Johnny Shines - Sweet Home Chicago [2:56]
04. Johnny Shines - Kindhearted Woman [3:00]
05. Bukka White - I'm Going to Settle Down [4:25]
06. John Lee Hooker - I'll Never Get Out of These Blues Alive [4:30]
07. Son House - I Had the Blues This Morning [3:21]
08. Shines/Edwards/Horton - Love of Mine [4:30]
09. Bukka White - Old Lady [2:54]
10. Johnny Shines - Going to Algiers [2:47]
11. Johnny Shines - Tell Me How You Want Your Rolling Done [3:25]
12. John Lee Hooker - It Serves Me Right to Suffer [3:41]
13. Son House - Empire State Express [2:54]
14. Son House - Levee Camp Moan [4:27]
15. Johnny Shines - I Don't Know [3:10]
16. Bukka White - Freight Train Blues [4:26]
17. Johnny Shines - Ramblin' [3:28]
18. Son House - Don't Mind People Grinning in Your Face [6:08]
Features:
- Direct Scene Access
- Interactive Menu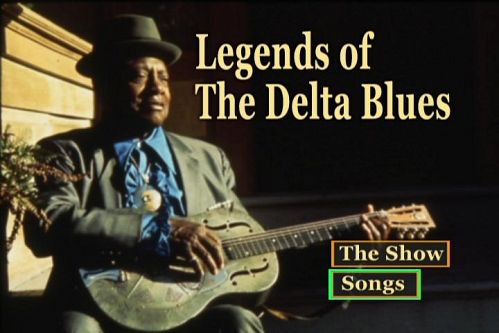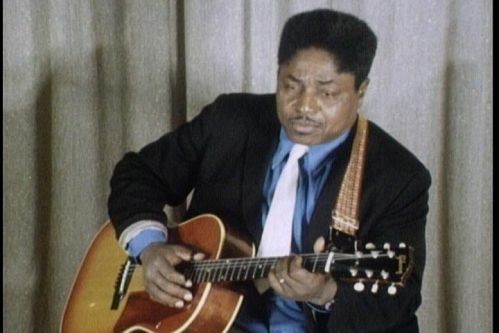 Zobacz inne moje newsy na
EXSite.pl
Informacje
Jeżeli chcesz skomentować artykuł musisz być zarejestrowany na stronie.