Witamy na EXSite.pl! Tutaj znajdziesz wszystko!
Darmowe filmy, darmowe gry, darmowe programy, darmowe mp3, albumy, szablony, tapety, style windows skins, darmowe filmy erotyczne, teledyski, eBooki, anime, darmowe seriale i wiele więcej... Wszystko za darmo!
Bob Brozman - In Concert (2004) DVD5
Bob Brozman - In Concert (2004) DVD5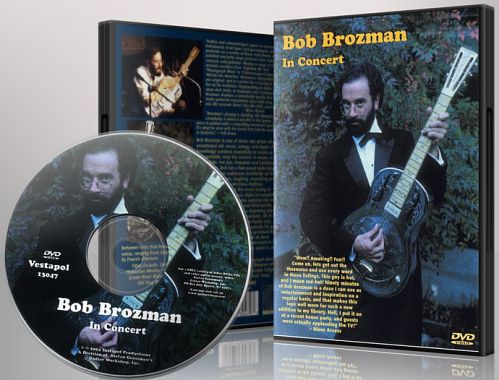 Video: NTSC, MPEG Video at 6 159 Kbps, 720 x 480 (1.333) at 29.970 fps | Audio: AC-3 2 channels at 192 Kbps, 48.0 KHz
Genre: Blues, Folk, World Music | Label: Vestapol | Copy: Untouched | Release Date: 13 Apr 2004 | Runtime: 89 min. | 3,90 GB
Multi-instrumentalist, historian, and educator Bob Brozman was born in New York on March 8, 1954. His uncle, Barney Josephson, was a prominent club owner who ran Cafe Society in Greenwich Village, one of the first places in New York, or anywhere, where black and white musicians played on-stage together.
Brozman studied music and ethnomusicology at Washington University in St. Louis. Brozman became not only a master of classic blues from the '20s and '30s, but also a competent performer of early jazz and ragtime. In the mid-'70s while still in college, he would make trips down South to find, interview, and play with the older blues artists from the 1920s and '30s whom he admired.
Brozman recorded several fine albums in the early and mid-'80s for the Kicking Mule and Rounder labels, and for students of early vintage blues and vintage guitar aficionados, they're well worth looking for. In 1985, he recorded Hello Central...Give Me Dr. Jazz for the Massachusetts-based Rounder label and followed up in 1988 with Devil's Slide. Truckload of Blues appeared on Rounder in 1992. Brozman also collaborated on album projects with a number of musicians from around the world, including the Tau Moe Family (Remembering the Songs of Our Youth), Debashish Bhattacharya (Mahima), Ren? Lacaille (DigDig), Takashi Hirayasu (Jin Jin and Nankuru Naisa), Djeli Moussa Diawara (Ocean Blues), Led Kaapana (In the Saddle), David Grisman (Tone Poems III), Jeff Lang (Rolling Through This World), Woody Mann (Get Together), and Cyril Pahinui (Four Hands Sweet & Hot). He kept busy as a solo act as well, releasing Live Now, Metric Time, and Blues Reflex early in the new millennium. Brozman traveled to Papua New Guinea in 2003 and 2004 to record and be filmed with local string bands, and the resulting CD/DVD set, Songs of the Volcano, appeared in 2005. Continuing to show off his versatility in performing compositions influenced by varying cultures, he released two albums in 2007, Lumiere and Post-Industrial Blues. Brozman died at his home in Santa Cruz, California on April 23, 2013; he was 59 years old.
Tracklist:
01. Zonky [1:09]
02. Highway 49 Blues [3:04]
03. Down the Road [4:25]
04. Phonograph Blues [3:55]
05. Hawaiian Medley [4:12]
06. La Vie En Rose [4:08]
07. Ukulele Spaghetti [3:10]
08. Love in Vain [2:43]
09. Telegram Blues [5:23]
10. Green River Blues [4:50]
11. Backwards Blues [5:06]
12. Minnie the Moocher [3:54]
13. Cinemascope Calypso [5:53]
14. Old Dog Blues [4:26]
15. Dinah [4:16]
16. Meleanae [2:09]
17. Death Calypso [2:52]
18. Come On in My Kitchen [2:18]
19. Train Song [6:22]
20. Zoe's Lullaby [7:04]
Features:
- Direct Scene Access
- Interactive Menu[/quote]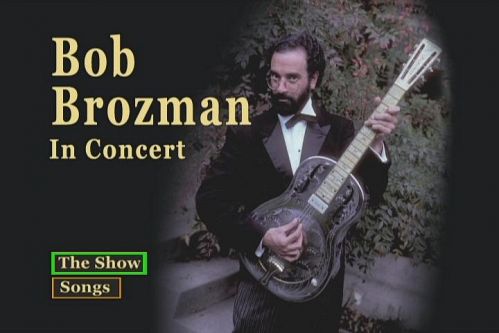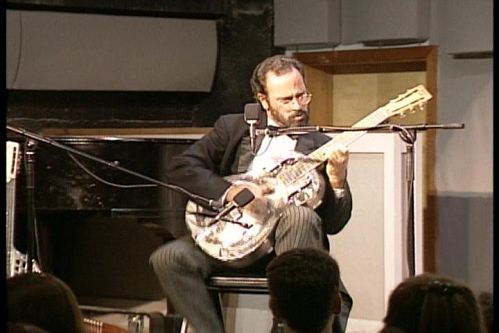 Zobacz inne moje newsy na
EXSite.pl
Informacje
Jeżeli chcesz skomentować artykuł musisz być zarejestrowany na stronie.