Witamy na EXSite.pl! Tutaj znajdziesz wszystko!
Darmowe filmy, darmowe gry, darmowe programy, darmowe mp3, albumy, szablony, tapety, style windows skins, darmowe filmy erotyczne, teledyski, eBooki, anime, darmowe seriale i wiele więcej... Wszystko za darmo!
Sue Foley - Live In Europe (2010) DVD9
Sue Foley - Live In Europe (2010) DVD9
Video: NTSC, MPEG-2, 720 x 480 (1.778) at 29.970 fps | Audio: AC-3 6ch. at 448 Kbps, DTS 6ch. at 755 Kbps, PCM 2ch. at 1 536 Kbps
Genre: Blues, Rock | Label: Ruf Records Dvd | Copy: Untouched | Release Date: 6 April 2010 | Runtime: 136 min. | 7,30 GB
This highly touted vocalist/guitarist originally hails from Ottawa, Canada, although her home base shifted to Austin, TX, when she signed with Antone's Records and cut her debut set, Young Girl Blues, in 1992 (an encore, Without a Warning, quickly followed). Foley's wicked lead guitar makes her a rarity among blueswomen. When she was a child in Ottawa, Foley listened to rock & roll and blues-rock groups like the Rolling Stones. Although these bands sowed the seeds of her affection for the blues, her love for the music didn't blossom until she witnessed James Cotton in concert when she was 15 years old. Cotton inspired Foley to pick up the electric guitar. During her late teens and early twenties, she jammed with local Ottawa bar bands. She didn't form her own group until she moved to Vancouver in the mid-'80s.
Foley sent a demo tape of herself to Antone's Records in 1990. Impressed, the label arranged an audition for the guitarist. Sue moved to Austin and soon signed a recording contract with Antone's. In 1992, her debut album, Young Girl Blues, was released. It was acclaimed by a number of blues publications. Two years later she released her second album, Without a Warning. It was followed by Big City Blues in 1995. Subsequent efforts include 1996's A Walk in the Sun, 1998's Ten Days in November, and 2000's Love Comin' Down and Back to the Blues. Where the Action Is appeared in 2002 on Shanachie Records. Foley then switched to Ruf Records for her next two albums, 2004's Change and 2006's New Used Car. In 2007 Foley released Time Bomb, a collaborative effort with fellow Ruf labelmates Deborah Coleman and Roxanne Potvin.
Artists:
- Sue Foley: Guitar, Vocals
- Michael Turenne: Bass
- Tom Bona: Drums
- Graham Guest: Keyboards
Tracklist:
Cologne Show
01. The Snake (Instrumental) [4:05]
02. Queenbee [5:37]
03. Hooked on Love (Instrumental) [5:42]
04. Me and My Chauffeur [5:05]
05. Fool Me Good [3:31]
06. Same Thing [7:15]
07. Hooker Thing (Instrumental) [3:53]
08. Mediterranean Breakfast (Instrumental) [6:31]
09. Found My Love [5:56]
10. Absolution [10:18]
11. Change Your Mind [3:32]
12. New Used Car [4:50]
13. Gone Blind (Solo Piece) [7:13]
Bonus Tracks - Amsterdam Show
01. Queenbee [6:30]
02. Me and My Chauffeur [5:33]
03. Careless Love [5:12]
04. Change [3:53]
05. Mediterranean Breakfast [6:25]
06. Doggie Treats [6:39]
07. Absolution [8:30]
08. Shake That Thing [5:17]
Extra:
- Tracklist
- Interview
- Photogallery
Features:
- Direct Scene Access
- Interactive Menu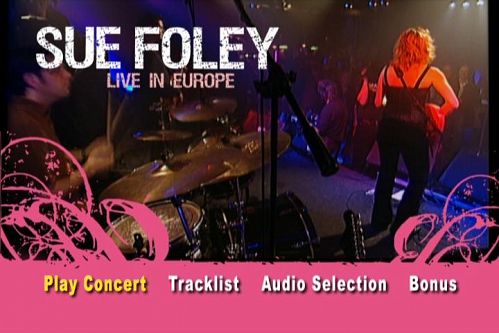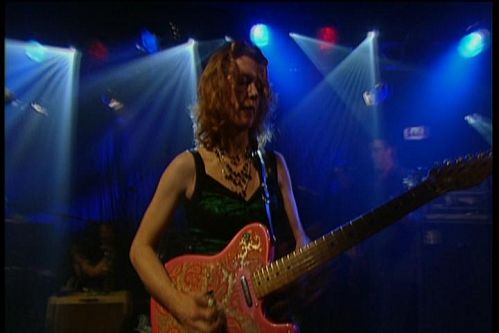 Zobacz inne moje newsy na
EXSite.pl
Informacje
Jeżeli chcesz skomentować artykuł musisz być zarejestrowany na stronie.