Witamy na EXSite.pl! Tutaj znajdziesz wszystko!
Darmowe filmy, darmowe gry, darmowe programy, darmowe mp3, albumy, szablony, tapety, style windows skins, darmowe filmy erotyczne, teledyski, eBooki, anime, darmowe seriale i wiele więcej... Wszystko za darmo!
George Shearing & Neil Swainson - Duo (2006) DVD5
George Shearing & Neil Swainson - Duo (2006) DVD5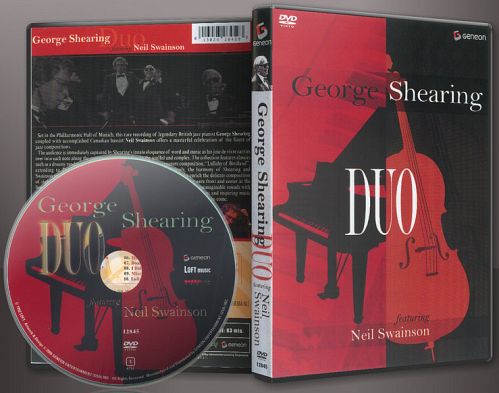 Video: NTSC, MPEG-2 at 4 417 Kbps, 720 x 480 (1.333) at 29.970 fps | Audio: AC-3 6ch. at 448 Kbps, PCM 2ch. at 1 536 Kbps
Genre: Jazz | Label: Geneon [Pioneer] | Copy: Untouched | Release Date: 12 Dec 2006 | Runtime: 83 min. | 4,12 GB
British Jazz pianist George Shearing is joined onstage by Canadian bassist Neil Swanson for this legendary performance captured live at the Philharmonic Hall of Munich and featuring a wide variety of jazz favorites. Professionally shot and instantly captivating, this rare recording of Shearing and Swanson performing together offers everything from Erroll Garner's "Misty" to Duke Ellington's "Come Sunday" and even a moving rendition of Shearing's signature tune "Lullaby of Birdland."
For a long stretch of time in the 1950s and early '60s, George Shearing had one of the most popular jazz combos on the planet -- so much so that, in the usual jazz tradition of distrusting popular success, he tended to be underappreciated. Shearing's main claim to fame was the invention of a unique quintet sound, derived from a combination of piano, vibraphone, electric guitar, bass, and drums. Within this context, Shearing would play in a style he called "locked hands," which he picked up and refined from Milt Buckner's early-'40s work with the Lionel Hampton band, as well as Glenn Miller's sax section and the King Cole Trio. Stating the melody on the piano with closely knit, harmonized block chords, with the vibes and guitar tripling the melody in unison, Shearing sold tons of records for MGM and Capitol in his heyday.
The wild success of this urbane sound obscures Shearing's other great contribution during this time, for he was also a pioneer of exciting, small-combo Afro-Cuban jazz in the '50s. Indeed, Cal Tjader first caught the Latin jazz bug while playing with Shearing, and the English bandleader also employed such esteemed congueros as Mongo Santamaria, Willie Bobo, and Armando Peraza. As a composer, Shearing was best known for the imperishable, uniquely constructed bop standard "Lullaby of Birdland," as well as "Conception" and "Consternation." His solo style, though all his own, reflected the influences of the great boogie-woogie pianists and classical players, as well as those of Fats Waller, Earl Hines, Teddy Wilson, Erroll Garner, Art Tatum, and Bud Powell -- and fellow pianists long admired his light, refined touch. He was also known to play accordion and sing in a modest voice on occasion.
Shearing, who was born blind, began playing the piano at the age of three, receiving some music training at the Linden Lodge School for the Blind in London as a teenager but picking up the jazz influence from Teddy Wilson and Fats Waller 78s. In the late '30s, he started playing professionally with the Ambrose dance band and made his first recordings in 1937 under the aegis of fellow Brit Leonard Feather. He became a star in Britain, performing for the BBC, playing a key role in the self-exiled St?phane Grappelli's London-based groups of the early '40s, and winning seven consecutive Melody Maker polls before emigrating in New York City in 1947 at the prompting of Feather. Once there, Shearing quickly absorbed bebop into his bloodstream, replacing Garner in the Oscar Pettiford Trio and leading a quartet in tandem with Buddy DeFranco. In 1949, he formed the first and most famous of his quintets, which included Marjorie Hyams on vibes (thus striking an important blow for emerging female jazz instrumentalists), Chuck Wayne on guitar, John Levy on bass, and Denzil Best on drums. Recording briefly first for Discovery, then Savoy, Shearing settled into lucrative associations with MGM (1950-1955) and Capitol (1955-1969), the latter for which he made albums with Nancy Wilson, Peggy Lee, and Nat King Cole. He also made a lone album for Jazzland with the Montgomery Brothers (including Wes Montgomery) in 1961, and began playing concert dates with symphony orchestras.
After leaving Capitol, Shearing began to phase out his by-then-predictable quintet, finally breaking it up in 1978. He started his own label, Sheba, which lasted for a few years into the early '70s and made some trio recordings for MPS later in the decade. In the '70s, his profile had been lowered considerably, but upon signing with Concord in 1979, Shearing found himself enjoying a renaissance in all kinds of situations. He made a number of acclaimed albums with Mel Torm?, raising the singer's profile in the process, and recorded with the likes of Ernestine Anderson, Jim Hall, Marian McPartland, Hank Jones, and classical French horn player Barry Tuckwell. He also recorded a number of solo piano albums where his full palette of influences came into play. He signed with Telarc in 1992 and from that point through the early 2000s continued to perform and record, most often appearing in a duo or trio setting. Shearing, who had remained largely inactive since 2004 after a fall in his New York City apartment, died of congestive heart failure at New York's Lenox Hill Hospital on February 14, 2011. He was 91.
Tracklist:
01. Kommit ein Vogel geflogen [7:21]
02. Freedom Jazz Dance [5:18]
03. Why Did I Choose You? [6:57]
04. The Duke [7:58]
05. Dreamsville [6:10]
06. Horizon [4:58]
07. Donna Lee [4:30]
08. I Didn't Know What Time It Was [7:40]
09. Misty [6:00]
10. Lullaby of Birdland [7:47]
11. Wail [5:20]
12. Come Sunday [7:44]
13. Loot the Boot [4:36]
Extra:
- George Shearing Bio
- Neil Swainson Bio
Features:
- Direct Scene Access
- Interactive Menu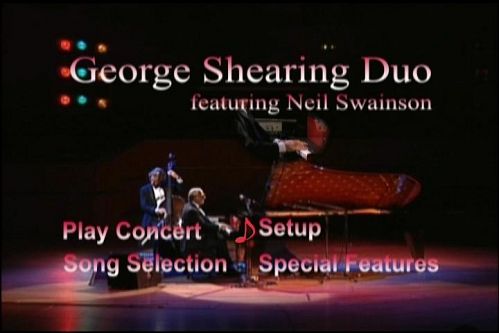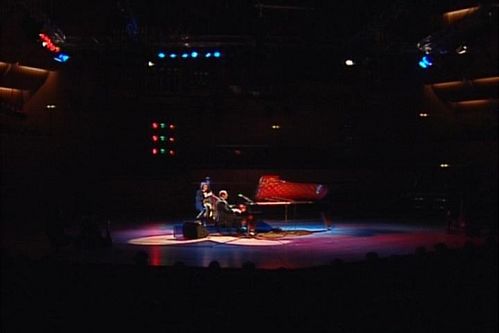 Zobacz inne moje newsy na
EXSite.pl
Informacje
Jeżeli chcesz skomentować artykuł musisz być zarejestrowany na stronie.