Witamy na EXSite.pl! Tutaj znajdziesz wszystko!
Darmowe filmy, darmowe gry, darmowe programy, darmowe mp3, albumy, szablony, tapety, style windows skins, darmowe filmy erotyczne, teledyski, eBooki, anime, darmowe seriale i wiele więcej... Wszystko za darmo!
John Pizzarelli: Live In Montreal - The Big Band (2000) DVD5
John Pizzarelli: Live In Montreal - The Big Band (2000) DVD5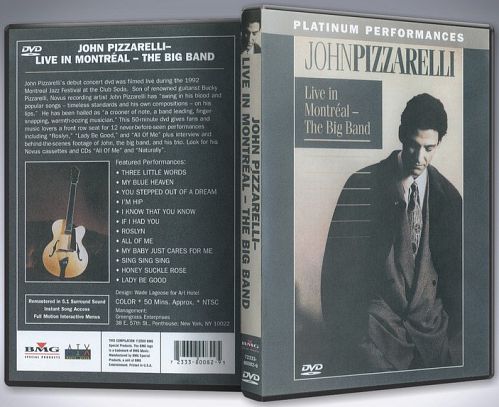 Video: NTSC, MPEG-2 at 5 489 Kbps, 720 x 480 (1.333) at 29.970 fps | Audio: AC-3 6ch. at 384 Kbps, AC-3 2ch. at 192 Kbps
Genre: Jazz | Label: Bmg Special Product | Copy: Untouched | Release Date: 22 Feb 2000 | Runtime: 50 min. | 2,26 GB
Jazz guitarist/vocalist John Pizzarelli is a technically proficient fretman with a soft voice, charming stage presence, and knack for uptempo swing. Most often performing in a trio setting sans drums, Pizzarelli has found his niche covering jazz standards and American popular song in his own urbane style. The son of journeyman swing guitarist Bucky Pizzarelli, John began performing with his father at age 20 and made his recorded debut with his 1983 release, I'm Hip Please Don't Tell My Father. Growing up, John was exposed to the music of such jazz luminaries as Les Paul and Django Reinhardt, and he has justifiably drawn comparisons to both of these legendary guitarists.
Pizzarelli's updated old-school sound caught the ear of many jazz purists early on; notably, in 1993 the John Pizzarelli Trio opened various dates on Frank Sinatra's tour, eventually participating in the legendary vocalist's 80th birthday celebration at Carnegie Hall. Interestingly, Pizzarelli's growing popularity garnered him a lead spot in the 1997 Broadway production of Dream, a tribute to composer Johnny Mercer. His 1998 RCA release, Meets the Beatles, found him reinterpreting classic songs by the iconic Liverpool quartet, while the following year he paid tribute to one of his biggest influences, pianist/vocalist Nat King Cole, on P.S. Mr. Cole. Pizzarelli then signed with the Telarc label in 1999 and released two standards-based albums, Kisses in the Rain and Let There Be Love, in 2000.
Since then, he has recorded an album with pianist George Shearing and celebrated ten years of performing with his trio by releasing the concert album Live at Birdland in 2003. Taking a break from swing, Pizzarelli released Bossa Nova in 2004. Largely featuring the works of Brazilian composer Antonio Carlos Jobim, the album showcased the Pizzarelli Trio on such classics of the genre as "The Girl from Ipanema" and "Aguas de Marco [Waters of March]." In 2005 Pizzarelli returned to his usual fare of American standards with Knowing You (though he penned the title track), and, backed by the Clayton-Hamilton Jazz Orchestra, paid his tribute to the legend himself with 2006's Dear Mr. Sinatra. With a Song in My Heart, featuring the songs of composer Richard Rodgers, followed in 2008. In 2010, Pizzarelli paid homage to legendary pianist/bandleader Duke Ellington with Rockin' in Rhythm: A Duke Ellington Tribute. The following year he appeared with his father on Family Fugue. In 2012, Pizzarelli released the album Double Exposure, featuring his take on classic jazz standards as well as contemporary pop standards from his youth, including works by Elvis Costello, Billy Joel, Steely Dan, and others.
Tracklist:
01. Three Little Words [4:03]
02. My Blue Heaven [3:21]
03. You Stepped Out of A Dream [2:49]
04. I'm Hip [3:29]
05. I Know That You Know [2:56]
06. If I Had You [4:20]
07. Roslyn [2:57]
08. All of Me [5:19]
09. My Baby Just Cares for Me [4:07]
10. Sing, Sing, Sing [3:30]
11. Honey Suckle Rose [2:46]
12. Lady Be Good [7:15]
Features:
- Direct Scene Access
- Interactive Menu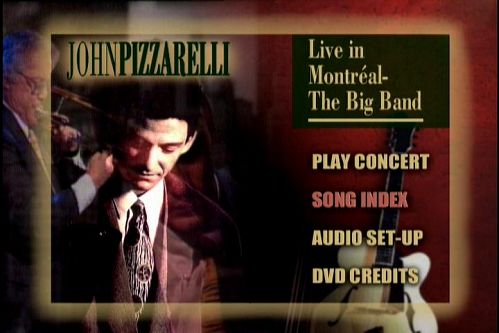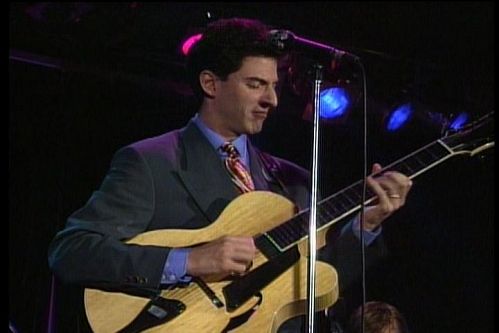 Zobacz inne moje newsy na
EXSite.pl
Informacje
Jeżeli chcesz skomentować artykuł musisz być zarejestrowany na stronie.