Witamy na EXSite.pl! Tutaj znajdziesz wszystko!
Darmowe filmy, darmowe gry, darmowe programy, darmowe mp3, albumy, szablony, tapety, style windows skins, darmowe filmy erotyczne, teledyski, eBooki, anime, darmowe seriale i wiele więcej... Wszystko za darmo!
Africa Live - The Roll Back Malaria Concert (2006) DVD9
Africa Live - The Roll Back Malaria Concert (2006) DVD9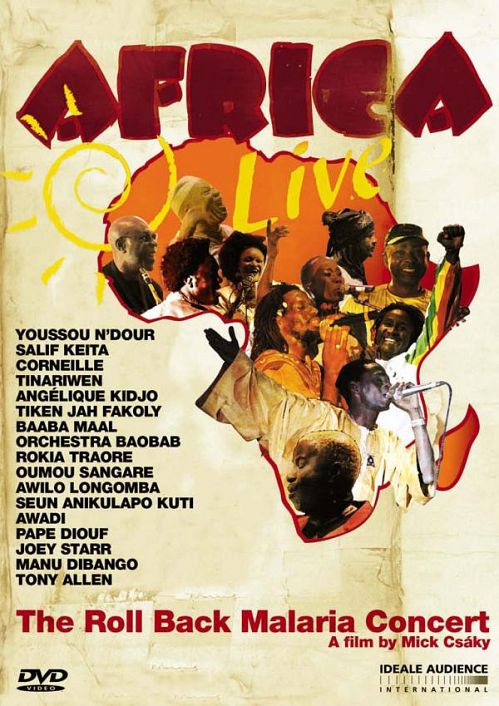 Video: NTSC, MPEG-2 at 5 442 Kbps, 720 x 480 (2.370) at 29.970 fps | Audio: AC-3 2ch. at 192 Kbps, AC-3 6ch. at 448 Kbps
Genre: World Music | Label: Ideale Audience International | Copy: Untouched | Release Date: 3 April 2006 | Runtime: 166 min. | 7,67 GB
Subtitles: English, French, Japanese, Spanish
In 2005, Senegalese superstar Youssou N'Dour helped organize a concert in Dakar, Senegal, to generate support in the fight against malaria, a disease that continues to plague much of Africa. The Roll Back Malaria concert showcased some of the finest musicians in Northwest Africa, performing in a wonderful if small cross section of musical styles from the vast African continent.
Some common elements in all the performances were multiple percussionists (this being Africa, after all), and an aural fabric of ostinatos, usually played by one or more electric guitars. Otherwise the styles ran the gamut from ancient tribal to urban hip-hop. Malian musicians seem to craft the most artful blend of traditional and modern styles, particularly Oumou Sangare, Salif Keita, and the group, Tinariwen. Oumou Sangare's band combines electric stringed instruments with djembes (hand drums), the harp-like kora, a single-string fiddle, a Western metal flute, and three backup singers who play large, beaded shekere-type wooden bowls as they sing and dance. Ms. Sangare's upbeat, high-energy song, "Tienadjan" lopes casually over a string ostinato as the backup singers shake and toss their beaded bowls in a synchronized performance of both dance and percussion. Salif Keita is striking for many reasons. He is an albino with a powerful voice, a passionate Islamic spirituality, and an inspired sense of delivery. Over a spacious, pensive, trance-like groove he sings "Mandjou" like a call to prayer. His band includes the kora and balafon (marimba), along with a variety of percussionists, with an occasional synthesizer punch thrown in for punctuation and drama. The group Tinariwen is billed as "Touareg," which is more an ethnic group than a place. Watching Tinariwen perform brings to mind scenes from composer/author Paul Bowles' novel Under the Sheltering Sky; it is a peek into a faraway, exotic culture. The band members are striking in their desert headgear but equally striking because of their instrumentation, which is comprised mostly of electric guitars. Their droning tribal sound has a clear pulse and rhythm, but the overall feel of the music is deliciously foreign to Western ears. Most of the Roll Back Malaria concert bands play in a more modern pop style. Senegalese artists tend to perform in the mbalax genre, which is intensely polyrhythmic and dynamic.
Orchestra Baobab, from Senegal, has a typical lineup that includes two saxophones and several guitars. The music is catchy, three-chord pop with vaguely Western funk overtones. Percussionists and guitarists play interlocking riffs and ostinatos, constructing irresistible dance grooves out of dense polyrhythms. The Nigerian singer/saxophonist Seun Anikulapo Kuti, son of Nigerian musical legend, Fela Kuti, fronts a large band consisting of five horns and the usual rhythm section of guitars and percussionists. His horn-driven sound provides a rich backup for his guest soloist, saxophonist Manu Dibango from Cameroon, who plays some burning, authoritative jazz. Nigerian drummer Tony Allen, who is solidly from the Max Roach school of understated bebop drumming, augments Mr. Dibango's set.
On a bonus section of the DVD, Mr. Dibango plays his hit song, Soul Makossa. In a fascinating example of how international cultures continue to cross-pollinate, Dibango channels African American soul legend James Brown as he repeatedly yells over a tight, funky groove, "Can I get to the bridge?" to his band, to which they all respond "Yeah" in bit of extended call and response before they finally all hit the bridge together. Afropop star Baaba Maal, from Senegal, performs Mbaye, a moving song of inspiration and spirituality. His big band, too, melds traditional and modern instruments, and the song features a talking drum player who solos front and center, embellishing Maal's vocals. Mr. Maal tears up the crowd with a rousing, high-energy finish.
Angelique Kidjo from Benin sings the tender ballad, Malaika (Angel) to the spare accompaniment of a solo, fingerpicked electric guitar. The effect is haunting as her rich voice echos airily into the night over the vast, hushed concert crowd. Soul singer Corneille, from Rwanda, drives all the girls into a frenzy with his boyish charm and thousand-watt smile. They crush the stage and reach out for him as he croons a smooth love song accompanied by a simple acoustic guitar, some spare percussion, and a few backup singers. Happy-go-lucky Awilo Longomba, sporting short dreadlocks and a casual hipness, rouses the crowd with Karonlina, over a joyous, galloping dance beat that is reminiscent of both Caribbean soca and Latin reggaeton. The high-note guitar ostinato tattoos the song with a typical Afropop soukous character. Reggae group Tiken Jah Faholey from the Ivory Coast is among a number of performers who take a political activism stance, blaming the malaria epidemic in part on politicians' inactivity and corruption. Equally forceful are Awadi, a hip-hop group from Senegal, whose four lead singers all hold forth in an anti-government screed.
Throughout the concert, various artists praise the host, Youssou N'Dour, so he is omnipresent. A segment at a press conference features him singing an a cappella version of Roll Back Malaria, a song he wrote to demonstrate his concern and the urgency of controlling the disease. Later in the film, N'Dour is shown recording the song in a studio. But he shines most in his collaborative concert performance with Grand Orchestre DuCaire, a classical ensemble from Cairo, Egypt, that combines traditional Middle Eastern instruments such as the oud (lute), nai (flute), and dumbek (hand drum) with a violin string section and other Western instruments. Senegalese and Egyptian instruments blend together for this performance, which sounds dominantly Egyptian (think belly dance music), but with subtle Senegalese characteristics, an inspired blend of two unique and separate styles.
French is the common language, so the DVD's English subtitles feature comes in handy. As for an African look from the performers, they are as likely to wear traditional dress as they are to wear "Western" apparel. Director/producer Mick Csaky intersperses concert footage with Dakar street scenes, and life from the surrounding countryside, including goatherds driving their flocks and fishmongers busy at the market. There is testimony about malaria from healthcare workers, and interviews with N'Dour, who earnestly pitches the need for immediate action.
The crowd appears enthusiastic but well behaved, respectful during the occasional stage speech about malaria and supportive of the cause. As Mr. N'Dour intended, the concert got the message out and hopefully people responded and took some action afterward. The best the music could do is to bring everyone together.
Tracklist:
01. Youssou N'Dour - Roll Back Malaria.
02. Angelique Kidjo - Malaika Afrika.
03. Awilo Longomba - Moustique, ne me pique pas.
04. Awilo Longomba - Karolina.
05. Seun Anikulapo Kuti feat. Manu Dibango & Tony Allen - Mosquito Song.
06. Tinariwen - Tismetten.
07. Tinariwen - Chet Boghassa.
08. Awadi - Xoyma.
09. Awadi - Stoppez-les!
10. Corneille - Parce qu'on vient de loin.
11. Corneille - Reves de star.
12. Oumou Sangare - Tienadjan.
13. Salif Keita - Mandjou.
14. Orchestra Baobab - Bul Ma Miin.
15. Baaba Maal - Mbaye.
16. Rokia Traore - Kana Hami.
17. Tiken Jah Fakoly feat. Awadi - Quitte le pouvoir!
18. Tiken Jah Fakoly - Plus rien ne m'etonne.
19. Manu Dibango feat. Seun Anikulapo Kuti - Soul Makossa.
20. Joey Starr - Pose ton gun.
21. Awadi - J'accuse.
22. Oumou Sangare - Wayeina.
23. Angelique Kidjo & Youssou N'Dour - Set.
24. Youssou N'Dour feat. Pape Diouf - Alboury.
25. Youssou N'Dour & Le Grand Orchestre Du Caire - Touba.
26. Daru Salaam - Tijaniyya.
Extra:
- Unicef's Roll Back Malaria Film, Presented By Ang?lique Kidjo
- 10 Additional Live Songs, Directed By Martin Meissonnier
- The Long Version Of The Africe Live Documentary Directed By Mick Cs?k With Live Performances (Complete Songs)
- Backstage Comments From The Artists, Insights Into The Organization Of The Event In Dakar, Subtitles Lyrics, Etc. (104 Minutes)
Features:
- Direct Scene Access
- Interactive Menu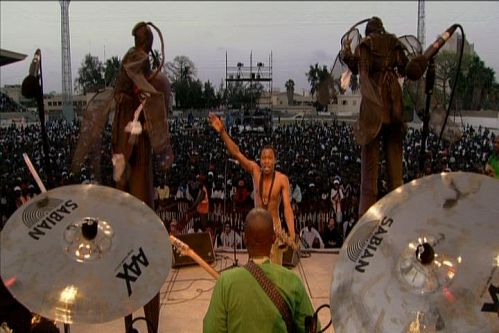 Zobacz inne moje newsy na
EXSite.pl
Informacje
Jeżeli chcesz skomentować artykuł musisz być zarejestrowany na stronie.