Witamy na EXSite.pl! Tutaj znajdziesz wszystko!
Darmowe filmy, darmowe gry, darmowe programy, darmowe mp3, albumy, szablony, tapety, style windows skins, darmowe filmy erotyczne, teledyski, eBooki, anime, darmowe seriale i wiele więcej... Wszystko za darmo!
Joe Satriani: Satchurated - Live in Montreal (2012) DVD9+DVD5
Joe Satriani: Satchurated - Live in Montreal (2012) DVD9+DVD5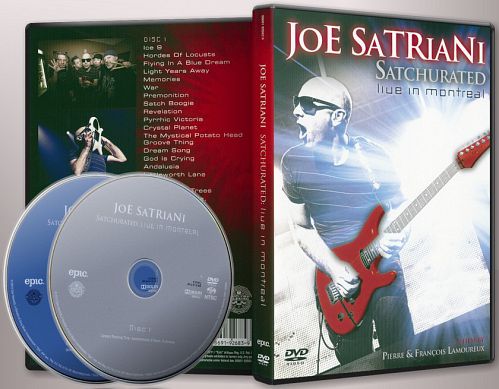 Video: NTSC, MPEG-2 at 6 000 Kbps, 720 x 480 (1.778) at 29.970 fps | Audio:AC-3 6ch. at 448 Kbps, PCM 2ch. at 1 536 Kbps, 48.0 KHz
Genre: Rock, Jazz | Label: Sony CMG | Copy: Untouched | Release Date: 23 April 2012 | Runtime: 168 min. | 7,20 + 4,35 GB
Along with teaching some of the top rock guitar players of the '80s and '90s, Joe Satriani is one of the most technically accomplished and widely respected guitarists to emerge in recent times. Born on July 15, 1956, in Westbury, New York, and raised in the nearby town of Carle Place, Satriani inspired by guitar legend Jimi Hendrix picked up the guitar at the age of 14 (although he was initially more interested in the drums). Quickly learning the instrument, Satriani began teaching guitar to others and found a kindred spirit in one of his students, Steve Vai. By the late '70s, however, Satriani had relocated to Berkeley, California. With his sights set on his own musical career, "Satch" kept teaching others, including such future rock notables as Kirk Hammett (Metallica), Larry LaLonde (Primus), David Bryson (Counting Crows), and jazz fusion player Charlie Hunter.
In the early '80s, Satriani got a gig playing guitar with power popster Greg Kihn, doing some session work and touring with the group (an archival release recorded around this time, King Biscuit Flower Hour, was later issued in 1996), and issuing his own solo self-titled EP in 1984, financing and releasing the project entirely on his own. But when Vai hit the big time as the guitarist of David Lee Roth's solo band in 1986, he offered praise for his good friend and former teacher in several major guitar publications, leading to widespread interest in Satriani's playing. The timing couldn't have been more perfect for Satch, as he'd just issued his first full-length solo album, Not of This Earth, which automatically made ripples in the rock guitar community.
But the best was still to come, in the form of his sophomore release, 1987's Surfing with the Alien. Almost overnight, Satriani was widely regarded as one of rock's top guitarists, as the album earned gold certification and the guitarist would finish at the top of guitar magazine's polls for years afterward. He was even handpicked by Mick Jagger to accompany the famous singer on a tour of Australia and Japan around this time. A stopgap EP, Dreaming #11, combined both studio and live tracks and was issued a year later, and in 1989, Satriani issued his third solo full-length, Flying in a Blue Dream. Another sizeable hit, the album also marked Satch's debut as a vocalist on several tracks. His career received another big push the same year when his song "One Big Rush" was included on the soundtrack to Cameron Crowe's hit movie Say Anything.
The '90s began with Satriani creating his own line of guitars for the Ibanez company (the JS Joe Satriani model), but it wasn't until 1992 that he would issue his next solo release, The Extremist. The double-disc set Time Machine followed a year later (a combination of new tracks, live material, and the long out of print Joe Satriani EP from 1984), and in 1994, Satch filled in on tour for the departed Ritchie Blackmore for heavy metal pioneers Deep Purple. Although he was asked to become a full-time member, Satriani turned down the offer to return to his solo career.
Satriani issued two more solo albums during the '90s -- 1995's self-titled release and 1998's Crystal Planet and also started the G3 guitar showcase tour with Vai in 1996, which became an annual event; Satriani issued a live document of the tour's initial run, G3: Live in Concert, a year later. 2000 saw Satriani issue his most musically daring release yet, the electronic-based Engines of Creation, and a year later, Live in San Francisco. Engines was nominated for a Grammy the next year, and after a successful tour he stepped back into the studio. The result, Strange Beautiful Music, was released in 2002. Electric Joe Satriani: An Anthology arrived in 2003, followed by Is There Love in Space? in 2004, Super Colossal in 2005, and Satriani Live! in 2006. In addition to his own albums, Satriani has guested on several other artists' albums over the years, including Blue ?yster Cult's Imaginos, Alice Cooper's Hey Stoopid, Stuart Hamm's Radio Free Albemuth, Pat Martino's All Sides Now, and Spinal Tap's Break Like the Wind. Satriani's thirst for collaboration extended to him joining forces with ex-Van Halen members Sammy Hagar and Michael Anthony for the 2009 supergroup Chickenfoot. The next year, Satriani returned to his guitar pyrotechnics with Black Swans and Wormhole Wizards. For that album, he recorded the 3-D special Satchurated: Live in Montreal, which was released on Blu-Ray and double-CD in 2012. Satriani returned to solo duty in 2013 with the new studio album Unstoppable Momentum.
Tracklist:
DVD1
01. Ice 9
02. Hordes Of Locusts
03. Flying In A Blue Dream
04. Light Years Away
05. Memories
06. War
07. Premonition
08. Satch Boogie
09. Revelation
10. Pyrrhic Victoria
11. Crystal Planet
12. The Mystical Potato Head Groove Thing
13. Dream Song
14. God Is Crying
15. Andalusia
16. Littleworth Lane
17. Why
18. Wind In The Trees
19. Always With Me, Always With You
20. Big Bad Moon
DVD2 - Bonus Disc
1. Crowd Chant
2. Summer Song
3. Two Sides To Every Story (Bonus Track)
4. The Golden Room (Bonus Track)
5. Bonus Video – "Inside the Wormhole"
Features:
- Direct Scene Access
- Interactive Menu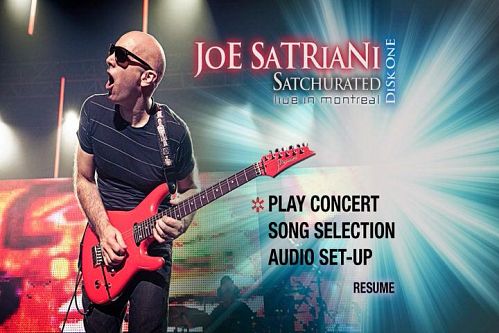 Zobacz inne moje newsy na
EXSite.pl
Informacje
Jeżeli chcesz skomentować artykuł musisz być zarejestrowany na stronie.