Witamy na EXSite.pl! Tutaj znajdziesz wszystko!
Darmowe filmy, darmowe gry, darmowe programy, darmowe mp3, albumy, szablony, tapety, style windows skins, darmowe filmy erotyczne, teledyski, eBooki, anime, darmowe seriale i wiele więcej... Wszystko za darmo!
Mandrill - Live in Montreux 2002 (2006) DVD9
Dodał: rgajowy 6 Czerwiec 2013 15:47
Mandrill - Live in Montreux 2002 (2006) DVD9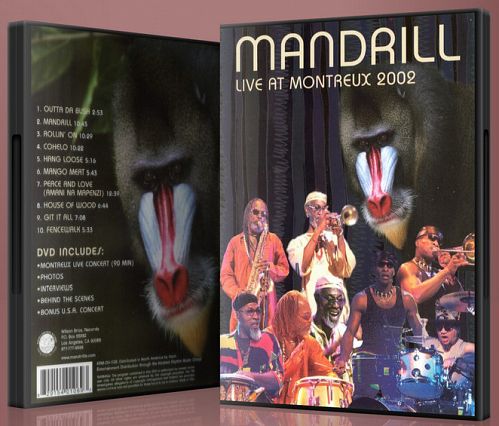 Video: NTSC, MPEG-2 at 6 500 Kbps, 720 x 480 (1.333) at 29.970 fps | Audio: AC-3 2 channels at 224 Kbps, 48.0 KHz
Genre: Jazz, Soul | Label: Now Forward Music Inc. | Copy: Untouched | Release Date: 4 Dec 2006 | Runtime: 90 min. | 7,52 GB
One of funk's most progressive outfits, Mandrill paid the price for their ambitions in commercial returns not that they never earned a reputation or an audience, but their expansive, eclectic vision often worked better when given an album's worth of room to roam, rather than being condensed into hit singles. Mandrill's jam-heavy brand of funk was liberally infused with Latin, Caribbean, and jazz influences, plus blues, psychedelia, African music, and straight-up rock. Their freewheeling approach was a definite influence on the Parliament-Funkadelic collective (an early incarnation of which actually served as their opening act), and their grooves have been sampled by numerous hip-hop acts in modern days.
Mandrill was formed in Brooklyn in 1968 by brothers Ric Wilson (sax, vocals), Lou Wilson (trumpet, vocals), and Carlos Wilson (trombone, vocals), all of whom were born in Panama and raised in the Bedford-Stuyvesant neighborhood by musically inclined parents. Ric Wilson had already taken up a career as a cardiologist when the group officially formed; the brothers had performed together for quite some time, rehearsing at the beauty salon where their mother worked. Taking their name from the variety of West African ape (because of its distinctive, colorful face and well-developed, family-oriented social organization), Mandrill soon added keyboardist Claude "Coffee" Cave, guitarist Omar Mesa, bassist Bundie Cenas, and drummer Charlie Padro. They signed with Polydor and released their eponymous debut album in 1970, displaying the influence of the burgeoning jazz-rock and Latin rock movements in addition to soul and funk. For the follow-up, 1972's Mandrill Is, Fudgie Kae Solomon replaced Cenas on bass, and the group scored its first hits with "Ape Is High" and "Git It All."
With new drummer Neftali Santiago, Mandrill scored their biggest hit with 1973's Composite Truth, which also produced their highest-charting single, "Fencewalk." This incarnation ranked as the classic Mandrill lineup, but didn't take long to splinter; after 1974's Just Outside of Town (which featured the hit "Mango Meat"), guitarist Mesa left (citing "spiritual reasons") and was replaced by Dougie Rodriguez, formerly of Santana. After the soundscape-heavy double-LP Mandrilland, disputes over the Wilson brothers' control of the band led to the departure of every non-Wilson member save for Claude Cave. Leaving Polydor, Mandrill cut two albums for United Artists with a session rhythm section over 1975-1976, and subsequently caught on with Arista. Their label debut, 1977's We Are One, proved to be their biggest hit since Composite Truth, spawning the club hits "Funky Monkey" and "Can You Get It"; it also marked the temporary return of Santiago on drums, the addition of another brother, Wilfredo "Wolf" Wilson, on bass, and the debut of guitarist Joaquin Jessup. Two more albums for Arista followed over the next two years (New Worlds and Getting in the Mood), and the band also handled the soundtracks for the Muhammad Ali flick The Greatest (1977) and the cult gang film The Warriors (1979). Mandrill went on to cut one more album, Energize!, for Montage in 1982 before disbanding. Fudgie Kae Solomon later died of a drug overdose. Lou Wilson died from cardiac arrest in January 2013 at the age of 71.
Tracklist:
01. Outta Da Bush [2:08]
02. Mandrill [10:45]
03. Rollin' On [10:11]
04. Cohelo [10:28]
05. Hang Loose [5:16]
06. Mango Meat [5:23]
07. Peace and Love [12:38]
08. House of Wood [6:43]
09. Git It All [7:08]
10. Fencewalk [8:07]
Extra:
- Discography
- Photo Gallery
- Interviews
Interviews: Palace Hotel
Interviews: Coleur 3 Radio
- Behind the Scenes
Behind the Scenes: On the Way to a Funkin
Behind the Scenes: Bout to Funk
Behind the Scenes: Funkin Done
- Hip Hop Samples
Features:
- Direct Scene Access
- Interactive Menu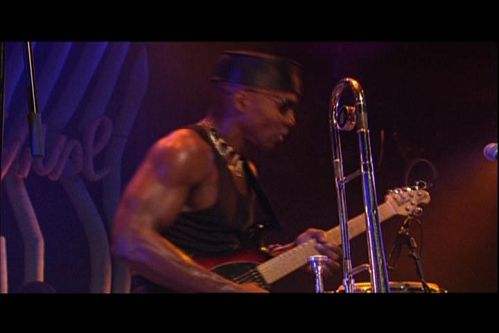 Zobacz inne moje newsy na
EXSite.pl
Informacje
Jeżeli chcesz skomentować artykuł musisz być zarejestrowany na stronie.