Witamy na EXSite.pl! Tutaj znajdziesz wszystko!
Darmowe filmy, darmowe gry, darmowe programy, darmowe mp3, albumy, szablony, tapety, style windows skins, darmowe filmy erotyczne, teledyski, eBooki, anime, darmowe seriale i wiele więcej... Wszystko za darmo!
Masters of the Country Blues - John Lee Hooker & Furry Lewis (2002) DVD5
Dodał: rgajowy 8 Czerwiec 2013 16:36
Masters of the Country Blues - John Lee Hooker & Furry Lewis (2002) DVD5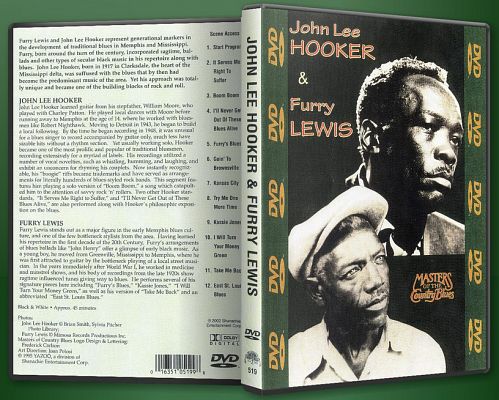 Video: NTSC, MPEG-2 at 8 000 Kbps, 720 x 480 (1.333) at 29.970 fps | Audio: AC-3 2 channels at 224 Kbps, 48.0 KHz
Genre: Blues | Label: Yazoo | Copy: Untouched | Release Date: 22 July 2002 | Runtime: 45 min. | 2,64 GB
John Lee Hooker and Furry Lewis represent generational markers in the development of traditional blues in Memphis and Mississippi. Furry, born around the turn of the century, incorporated ragtime, ballads and other types of secular black music in his repertoire along with the blues. Hooker, born in 1917 in Clarksdale, the heart of the Mississippi delta, was suffused with the blues that by then had become the predominant music of the area. Yet his approach was totally unique and became one of the building blocks of rock and roll.John Lee Hooker: John Lee Hooker learned guitar from his stepfather, William Moore, who played with Charley Patton. He played local dances with Moore before running away to Memphis at age 14, where he worked with bluesmen like Robert Nighthawk. Moving to Detroit in 1943, he began to build a local following. By the time he began recording in 1948, it was unusual for a blues singer to record accompanied by guitar only, much less have sizable hits without a rhythm section. Yet usually working solo, Hooker became one of the most prolific and popular of traditional bluesmen, recording extensively for a myriad of labels. His recordings utilized a number of vocal novelties, such as whistling, humming and laughing, and exhibit an unconcern for rhyming his couplets. Now instantly recognizable, his 'boogie' riffs became trademarks and have served as arrangements for literally hundreds of rock bands. This segment features him playing a solo version of 'Boom Boom,' a song which catapulted hi to the attention of hundreds of savvy rock 'n' rollers. Two other Hooker standards, 'It Serves me Right To Suffer,' and 'I'll Never Get Out of These Blues Alive,' are also performed along with Hooker's philosophic exposition of the blues.Furry Lewis: Furry Lewis stands out as a major figure in the early Memphis blues culture, and one of the few bottleneck stylists from the area. Having learned his repertoire in the first decade of the 20th century, Furry's arrangements of blues ballads like 'John Henry' offer a glimpse of early black music. As a young boy, he moved from Greenville, Mississippi to Memphis, where he was first attracted to guitar by the bottleneck playing of a local street musician. In the years immediately after World War I, he worked in medicine and minstrel shows, and his body of recordings from the late 1920s show ragtime influenced tunes giving way to blues. He performs several of his signature pieces here including 'Furry's Blues,' 'Kassie Jones,' 'I Will Turn Your Table Green,' as well as his version of 'Take Me Back' and an abbreviated 'East St. Louis Blues.'
Artists:
- John Lee Hooker: Vocals, Guitar
- Furry Lewis: Guitar, Harmonica, Vocals
Tracklist:
01. Start Program [:30]
02. It Serves Me Right to Suffer [4:25]
03. Boom Boom [3:54]
04. I'll Never Get Out of These Blues Alive [8:15]
05. Furry's Blues [5:13]
06. Goin' to Brownsville [3:03]
07. Kansas City [3:02]
08. Try Me One More Time [2:51]
09. Kassie Jones [3:44]
10. I Will Turn Your Money Green [3:34]
11. Take Me Back [2:50]
12. East St. Louis Blues [3:49]
Features:
- Direct Scene Access
- Interactive Menu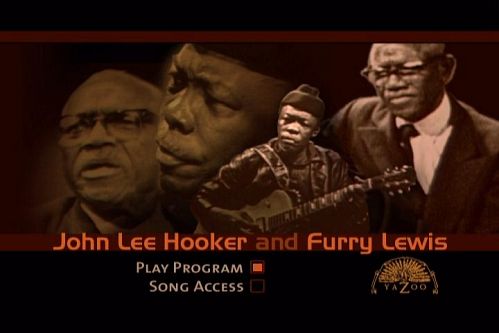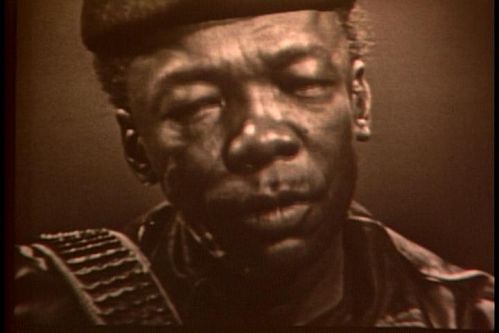 Zobacz inne moje newsy na
EXSite.pl
Informacje
Jeżeli chcesz skomentować artykuł musisz być zarejestrowany na stronie.