Witamy na EXSite.pl! Tutaj znajdziesz wszystko!
Darmowe filmy, darmowe gry, darmowe programy, darmowe mp3, albumy, szablony, tapety, style windows skins, darmowe filmy erotyczne, teledyski, eBooki, anime, darmowe seriale i wiele więcej... Wszystko za darmo!
Alien Ant Farm: Busted - The Definitive DVD (2006) DVD9
Dodał: rgajowy 8 Czerwiec 2013 17:28
Alien Ant Farm: Busted - The Definitive DVD (2006) DVD9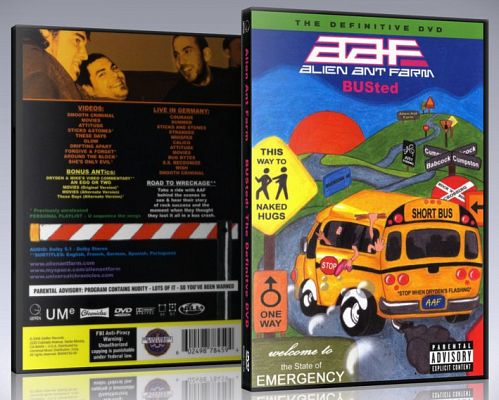 Video: NTSC, MPEG-2, 720 x 480 (1.333) at 29.970 fps | Audio: AC-3 6ch. at 448 Kbps, AC-3 2ch. at 192 Kbps, AC-3 2ch. at 192 Kbps
Genre: Rock, Metal | Label: Universal Music | Copy: Untouched | Release Date: 28 Aug 2006 | Runtime: 156 min. | 7,63 GB
Subtitles: Spanish, French, Portuguese, German, English
The SoCal alt-metal foursome Alien Ant Farm formed in 1996 with the raging singer/songwriter Dryden Mitchell, guitarist Terry Corso, bassist Tye Zamora, and drummer Mike Cosgrove. All were bored with their day jobs and sought something else to break them from corporate norms. Music allowed them to freely express themselves, and a friendship was born. They independently released their quirky debut, Greatest Hits, toward the end of the '90s and soon enough noise surrounded the band. It won the award for Best Independent Album at the 1999 L.A. Music Awards and Alien Ant Farm found themselves striking a deal with Papa Roach's New Noize, which is partners with DreamWorks.
Two years later they made their major-label introduction with ANThology, issued in March 2001. Debut single "Smooth Criminal" was a funky metal mix of Michael Jackson's original song, and pop kids of the TRL generation loved it. The song hit number one on the modern rock charts, and the album eventually went platinum. A year later, between tours of Europe, the band was back in the studio recording new music. Their new song "Bug Bites" was featured in the Tobey Maguire flick Spiderman in May 2002. But while traveling in Spain to a gig in Portugal that same month, the band's bus collided with a truck, killing their driver, Christopher Holland. The band and crew members suffered various injuries as well, most seriously Mitchell, who fractured his C2 vertebra. Thankfully, he came out of surgery able to walk, though suffered some nerve damage and a slight loss of motion.
Committed to getting back to work and pushing the incident aside, Alien Ant Farm hit the studio to record their follow-up record. truANT was issued in May 2003, right as Dreamworks was dissolving as a label. As a result, the album barely made a splash on the U.S. charts, though the single "These Days" managed to crack the Top 30. Guitarist Corso subsequently exited the group and was replaced by Joe Hill. Zamora next left for college after recording of the band's fourth effort wrapped. Up in the Attic appeared in July 2006 on New Door Records, as hardcore vet Alex Barreto (Chain of Strength, Inside Out) entered on bass. Alien Ant Farm simultaneously released the DVD BUSted, which included music videos, live footage, and a candid documentary.
Artists: Alien Ant Farm
- Alex Barreto: Bass
- Dryden Mitchell: Vocals
- Mike Cosgrove: Drums
- Joe Hill: Guitar
Tracklist:
- Videos
01. Smooth Criminal [3:33]
02. Movies [4:16]
03. Attitude [3:56]
04. Sticks and Stones [3:18]
05. These Days [3:34]
06. Glow [3:29]
07. Drifting Apart [2:53]
08. Forgive & Forget [2:57]
09. Around the Block [3:18]
10. She's Only Evil [4:51]
- Live In Germany
01. Courage [3:47]
02. Summer [4:00]
03. Sticks and Stones [3:13]
04. Stranded [3:32]
05. Whisper [3:17]
06. Calico [4:10]
07. Attitude [4:54]
08. Movies [3:42]
09. Bug Bytes [3:36]
10. SS Recognize [3:44]
11. Wish [3:23]
12. Smooth Criminal [4:20]
- Road to Wreckage
01. Intro [1:14]
02. Old Skool [3:11]
03. Anthology Sessions 1 [5:46]
04. Anthology Sessions 2 [11:14]
05. Anthology Touring [14:39]
06. Bus Wreck [2:40]
07. Truant Sessions [4:53]
08. Truant Touring [15:43]
09. Up in the Attic Session [14:12]
Extra:
- Dryden & Mike's video commentary
- Movies (original version)
- Movies (alternate version)
- These days (alternate version)
- Personal playlist - you sequence the songs
- Hidden easter eggs
Features:
- Direct Scene Access
- Interactive Menu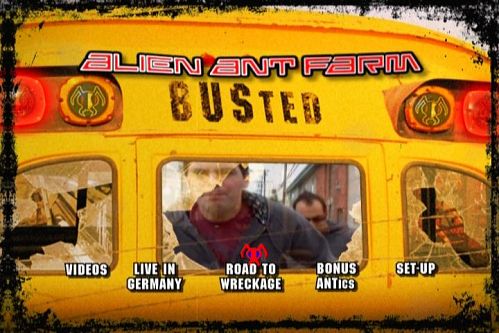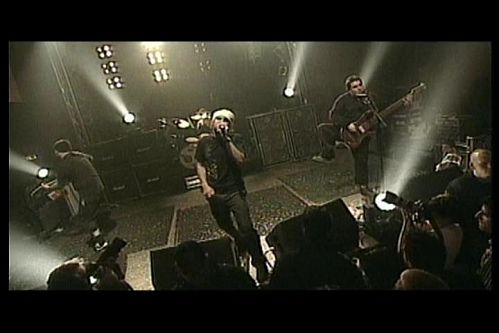 Zobacz inne moje newsy na
EXSite.pl
Informacje
Jeżeli chcesz skomentować artykuł musisz być zarejestrowany na stronie.