Witamy na EXSite.pl! Tutaj znajdziesz wszystko!
Darmowe filmy, darmowe gry, darmowe programy, darmowe mp3, albumy, szablony, tapety, style windows skins, darmowe filmy erotyczne, teledyski, eBooki, anime, darmowe seriale i wiele więcej... Wszystko za darmo!
John Legend - Live At The House Of Blues (2005) DVD9
Dodał: rgajowy 8 Czerwiec 2013 18:05
John Legend - Live At The House Of Blues (2005) DVD9
Video: PAL, MPEG-2 at 6 900 Kbps, 720 x 576 (1.778) at 25.000 fps | Audio: AC-3 6ch. at 448 Kbps, PCM 2ch. at 1 536 Kbps
Genre: R&B | Label: Sony Music | Copy: Untouched | Release Date: 5 Dec 2005 | Runtime: 90 min. | 5,65 GB
Neo-soul singer and pianist John Legend combined the raw fervor of contemporaries Cody ChesnuTT and the burning precision of D'Angelo. Born John Stephens, Legend was a child prodigy who grew up in Ohio, where he began singing gospel and playing piano at the tender age of five. Legend left Ohio at 16 to attend college in Philadelphia, and it was there that he first found a larger audience. Not yet out of his teens, Legend was tapped to play piano on Lauryn Hill's "Everything Is Everything" in 1998. After completing college, he moved to New York, where he began to build a loyal following playing in nightclubs and releasing CDs that he would sell at shows. He also became an in-demand session musician, playing and occasionally writing for a wide array of artists, including Alicia Keys, Twista, Janet Jackson, and Kanye West.
It wasn't until West signed the young talent to his new label that the Legend name was adopted with 2004's Solo Sessions Vol. 1: Live at the Knitting Factory. Get Lifted, Legend's first studio album, was released later in the year. On the strength of enduring single "Ordinary People," the album reached the Top Five of the Billboard 200. This led to three Grammy Awards: Best R&B Album, Best R&B Male Vocal Performance, and Best New Artist. Once Again, which peaked at number three on the Billboard 200 and number one on the R&B/Hip-Hop Albums chart, followed in October 2006 and eventually went platinum. Live from Philadelphia, sold exclusively at Target stores, was a successful stopgap release -- a Top Ten album, despite its limited retail presence. October 2008's Evolver spun off the sprightly crossover hit "Green Light" but managed only gold-selling status. Legend followed it with September 2010's Wake Up!, in which he was backed by the Roots. The album featured covers of still-relevant, socially-aware songs like Harold Melvin & the Blue Notes' "Wake Up Everybody" and Donny Hathaway's "Little Ghetto Boy."
Artists:
- John Legend: Vocals, Piano
- Swiss Chris: Drums
- Chris Robinson: Keyboards, Backing Vocals
- Sharief: Guitar
- Kenneth Wright: Bass
- Josh Valleau: Keyboards
- Tara Watkins: Backing Vocals
- Denise Hudson: Backing Vocals
- Tara Michel: Backing Vocals
- Jessyca Wilson: Backing Vocals
- Snoop Dogg (guest): Vocals
- Kanye West (guest): Vocals
Tracklist:
01. Intro [3:01]
02. Get Lifted [4:01]
03. Alright [3:37]
04. She Don't Have to Know [6:27]
05. Number One (Featuring Kanye West) [3:52]
06. Let's Do It Again [2:12]
07. Live It Up [5:37]
08. Medley [Encore/All Falls Down/This Way/You Don't Know My Name] [2:19]
09. Selfish [3:38]
10. I Can Change [Featuring Snoop Dogg] [5:43]
11. Used to Love U [5:23]
12. Again [4:40]
13. Ordinary People [7:52]
14. So High [9:26]
15. Stay With You [3:51]
16. Refuge [9:44]
Music Video:
- So High
Extra:
- Making Of "so High" Music Video
Features:
- Direct Scene Access
- Interactive Menu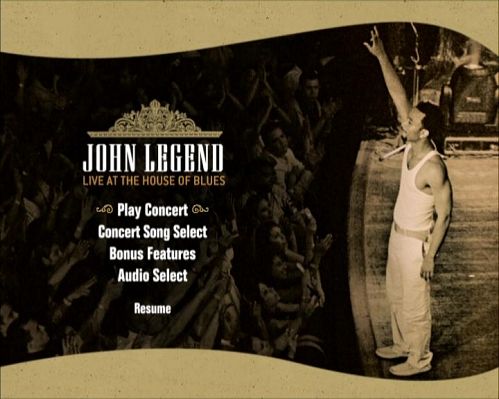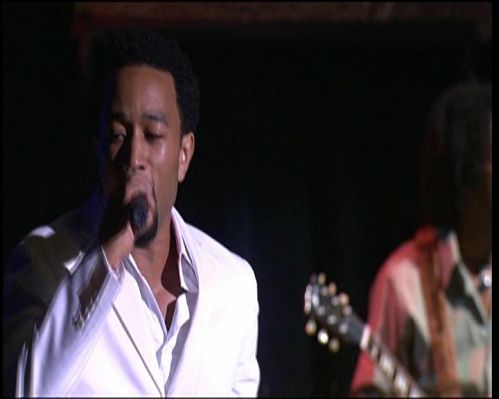 Zobacz inne moje newsy na
EXSite.pl
Informacje
Jeżeli chcesz skomentować artykuł musisz być zarejestrowany na stronie.