Witamy na EXSite.pl! Tutaj znajdziesz wszystko!
Darmowe filmy, darmowe gry, darmowe programy, darmowe mp3, albumy, szablony, tapety, style windows skins, darmowe filmy erotyczne, teledyski, eBooki, anime, darmowe seriale i wiele więcej... Wszystko za darmo!
Pink Floyd - The Dark Side Of The Moon (2011) [Box set]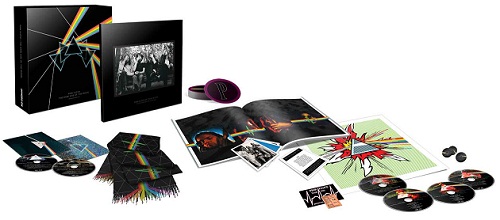 Pink Floyd - The Dark Side Of The Moon (2011) [Box Set]
EAC Rip | FLAC | 1 GB | MP3 CBR 320 kbps | 413 MB
DVD5+DVD9 | Video: | NTSC 19:9 (720x480) | Audio: LPCM 2.0, 4.0, 5.1 | 2 GB+6.25 GB
Blu-ray | BDMV | Video: H.264, MPEG-4 AVC / 1920:1080i / 29.970 fps / 16:9 / High Profile 4.1 | Audio: LPCM, AC3 | 31.5 GB
FULL SCANS | Photo Book | Booklet | PNG (300 dpi HQ) | 1.52 GB
Genre: Progressive Rock | Label: Pink Floyd Music Ltd., EMI Rec. Ltd., Capitol Rec., LLC
As a cornerstone release of the epic Why Pink Floyd? reissue programme, The Dark Side of The Moon was treated to a stunning 2011 remaster, and released in Discovery, Experience and Immersion editions. Featuring newly minted packaging across the range, the highly collectable Immersion edition featured a host of rare, unreleased and alternate audio and video content in both standard and high resolution across CD/DVD and Blu-ray. The Dark Side Of The Moon was the first record to get this reissue treatment, followed by Wish You Were Here and The Wall.

The Immersion edition features the classic studio album digitally remastered and presented as a limited edition high quality boxset featuring six discs of rare and unreleased audio and video material, plus a new 36-page oversized perfect-bound booklet, a book of original photographs edited by Jill Furmanovsky, exclusive merchandise and facsimile collectables.
DAVID GILMOUR Vocals, Guitars, VCS3
NICK MASON Percussion, Tape effects
RICHARD WRIGHT Keyboards, Vocals, VCS3
ROGER WATERS Bass Guitar, Vocals, VCS3, Tape effects
Disc 1 - CD: The Dark Side Of The Moon
The original album, remastered in 2011
Disc 2 - CD: Live At The Empire Pool. Wembley, London 1974
Previously unreleased
Disc 3 - DVD: (Audio Only)
The Dark Side Of The Moon Multi-Channel Audio Mixes
Disc 4 - DVD: Audio Visual Material
Disc 5: Blu-ray - High Res. Audio and Visual Material
Disc 6: Extra Audio Tracks
Download Link:
Uwaga! Linki nie zakodowane tylko dla zarejestrowanych użytkowników!
Nie masz konta?
Zarejestruj się za darmo!
----------------
Links are not encoded only for registered users only! Plese login or register!
Informacje
Jeżeli chcesz skomentować artykuł musisz być zarejestrowany na stronie.