Witamy na EXSite.pl! Tutaj znajdziesz wszystko!
Darmowe filmy, darmowe gry, darmowe programy, darmowe mp3, albumy, szablony, tapety, style windows skins, darmowe filmy erotyczne, teledyski, eBooki, anime, darmowe seriale i wiele więcej... Wszystko za darmo!
Love Is Like This [2CD] (2012)
Dodał: sam1425 17 Lipiec 2012 16:37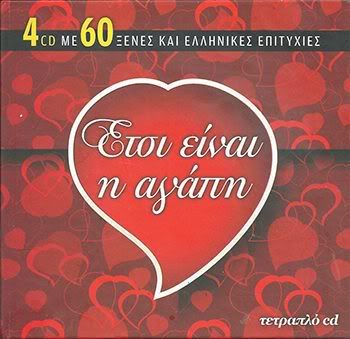 Artist:
VA
Album:
Love Is Like This
Year:
2012
Label:
EMI
Genre:
Pop, Soul
Codec:
MP3
Bitrate audio:
320 Kbps
Playtime:
3:25:26
Total Size:
501 mb
CD 1
01. Joe Dassin - Et si tu n' existais pas
02. Whitney Houston - I will always love you
03. Marvin Gaye - Sexual healing
04. Cyndi Lauper - Time after time
05. Toni Braxton - Un-break my heart
06. Bonnie Tyler - Total eclipse of the heart
07. Luther Vandross - So amazing
08. Billy Paul - Me and Mrs Jones
09. The Bangles - Eternal flame
10. REO Speedwagon - Keep on loving you
11. Michael Bolton - Lean on me
12. Lou Reed - Perfect day
13. Jennifer Rush - The power of love
14. Alison Moyet - Is this love
15. Patti Smith Group - Because the night
CD 2
01. Nilsson - Without you
02. Mel Torme - I've got you under my skin
03. Nina Simone - To love somebody
04. Andy Williams - Can't take my eyes of you
05. Julio Iglesias - Volver a empezar (Begin the beguine)
06. Paul Anka - Put your head on my shoulder
07. Barry Manilow - Can't smile without you
08. Bette Midler - Fever
09. Dionne Warwick - All the love in the world
10. Bing Crosby - Dream a little dream of me
11. Bobby Vinton - Blue on blue
12. Harry Belafonte - Try to remember
13. The Ronettes - Be my baby
14. Rosemary Clooney - Half as much
15. Tony Bennett - The very thought of you
CD 3
01. Tonis Maroudas & Sophia Loren - What is that they call love (Ti ine afto pou to lene agapi)
02. Fotis Dimas - You are my last love (I teleftea mou agapi ise si)
03. Zoi Kouroukli - You are my god (Ise o theos mou esi)
04. Tzimis Makoulis - Our romance (To romantzo mas)
05. Jenny Vanou - If I leave you my love (An s' arnitho agapi mou)
06. Nikos Gounaris & Zoi Fitousi - Come my love (Ela agapi mou)
07. Petros Anagnostakis - I came tonight at your door (Irtha ki apopse sta skalopatia sou)
08. Aleka Kanellidou - Killing me softly (Poso glika me skotonis)
09. Jenny Vanou - My boy (Agori mou)
10. Afroditi Manou & Yiannis Fertis - When you look at me (San me kitas)
11. Anna Vissi - As long as I have voice (Oso eho foni)
12. Yiannis Poulopoulos - My friend (File mou)
13. Marinella - I dare (Tolmo)
14. Yiannis Kalatzis - The golden keys (Ta hrisa klidia)
15. Litsa Diamanti - There is no happiness (Den iparhi eftihia)
CD 4
01. Grigoris Bithikotsis - Official sweetheart (Episimi agapimeni)
02. Vicky Mosholiou - I don't know how much I love you (Den xero poso s' agapo)
03. Litsa Diamanti & Makis Christodoulopoulos - A great love (Enas erotas megalos)
04. Tolis Voskopoulos - I love one girl (Ego agapo mia)
05. Stamatis Kokotas - A Greek man loved a Greek woman (Romios agapise romia)
06. Manolis Mitsias - Because I love you (Epidi s' agapo)
07. Litsa Diamanti - Let me love you (Ase me na s' agapao)
08. Marinella - Love is like this (Etsi ine i agapi)
09. Vicky Mosholiou - I love him (Ton agapo)
10. Themis Adamantidis - We suffer because we are in love (Poname osi agapame)
11. Stratos Dionisiou & Litsa Diamanti - You call me love (Me les agapi)
12. Tolis Vaskopoulos - Before our dream vanishes (Prin hathi to oniro mas)
13. Katerina Kouka - I wish I had two hearts to love you (Na 'ha dio kardies na s' agapo)
14. Stratos Dionisiou & Marina Vlahaki - Hold me (Kratise me)
15. Poly Panou - Take my ring (Pare to dahtilidi mou)
Uwaga! Linki nie zakodowane tylko dla zarejestrowanych użytkowników!
Nie masz konta?
Zarejestruj się za darmo!
----------------
Links are not encoded only for registered users only! Plese login or register!
Informacje
Jeżeli chcesz skomentować artykuł musisz być zarejestrowany na stronie.