Witamy na EXSite.pl! Tutaj znajdziesz wszystko!
Darmowe filmy, darmowe gry, darmowe programy, darmowe mp3, albumy, szablony, tapety, style windows skins, darmowe filmy erotyczne, teledyski, eBooki, anime, darmowe seriale i wiele więcej... Wszystko za darmo!
Club Royal Vol 1 (House & Elektro In The Mix) [2CD] (2013)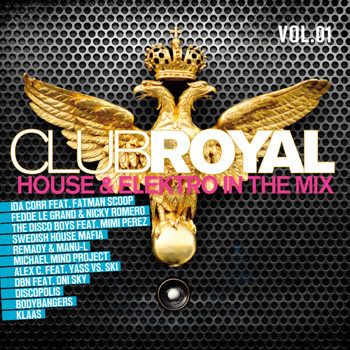 Artist:
VA
Album:
Club Royal Vol 1 (House & Elektro In The Mix)
Year:
2013
Label:
Pink Revolver
Genre:
Club House, Dance
Codec:
MP3
Bitrate audio:
258 Kbps avg VBR
Playtime:
2:11:37
Total Size:
244 mb
CD 1
01. Swedish House Mafia feat. John Martin - Don't You Worry Child (Radio Edit)
02. Ida Corr feat. Fatman Scoop - Tonight I'm Your DJ (Sergey Fisun Remix)
03. Michael Mind Project - Antiheroes (Radio Edit)
04. The Disco Boys feat. Mimi Perez - Life Is Always New (Single Mix)
05. Darius & Finlay feat. Nicco - Get Up (Money G Radio Mix)
06. Manian feat. Carlprit - Don't Stop The Dancing (Video Edit)
07. Bodybangers feat. Linda Teodosiu & Rameez - Out Of Control (Radio Edit)
08. Alex C. feat. Yass Vs. Ski - L'Amour Toujours (Radio Version)
09. Remady & Manu-L - Higher Ground (FlameMakers Radio Edit)
10. 2-4 Grooves - Down (Radio Edit)
11. Marc Kiss - Bad Girl (Radio Edit)
12. Klaas - Hold This Moment (Just Mike Remix Edit)
13. Klik Klak - Shake (Radio Edit)
14. Guenta K Meets Big Daddi - Oops Up (Side Your Head) (Movetown Edit)
15. Petty Joy feat. Uno Jahma - Allez Allez (Club Mix Edit)
16. Brooklyn Bounce & Giorno - Raving (David Redfield Remix Edit)
17. Gerald G! Feat. Mr. Freeman - Dreaming On The Dancefloor (G&G Vs. Davis Redfield Remix Edit)
18. Dino Mileta Feat. Oggie - Love Like Never Before (Original Radio Edit)
19. Cassey Doreen & Loona - Tell It To My Heart (Sunloverz Ibiza We Go To Pacha Edit)
20. Kindervater - Shooting Stars (Radio Edit)
CD 2
01. DBN Feat. Oni Sky - Gotta Get Thru This (Radio Edit)
02. Discopolis - Committed To Sparkle Motion (Dubvision Remix Radio Edit)
03. The Aston Shuffle vs. Tommy Trash - Sunrise (Won't Get Lost) (Tommy Trash Version)
04. Fedde Le Grand & Nicky Romero - Sparks (Instrumental Edit)
05. Dabruck & Klein Vs. Morgan Page - Liaison (Radio Edit)
06. Laidback Luke & Angger Dimas Feat. Polina - Night Like This (Dyro Remix)
07. Kid Chris - Choon (The Tweak) (Radio Edit)
08. David Puentez - Aerius (Radio Edit)
09. C.Y.B. - Now 2012 (Marc Van Linden Remix Edit)
10 Groove Phenomenon - Shing A Ling (Federico Scavo Remix Edit)
11. Patrick Hofmann feat. Max'C. - V.I.P. (Soundplayerzz Remix)
12. Sean Finn & Gino Montesano - The Voice (Criminal Vibes Remix)
13. Michael Calfan - Mozaik (Original Mix)
14. Jean Elan feat. Vikki And The Violence - MindSet (Radio Edit)
15. Falko Niestolik & Madfish - Rubin (Original Radio Mix)
16. David Hopperman feat. Amanda Wilson - Like I Like (DBN Radio Edit)
17. Barnes & Heatcliff - Boom (Original Mix)
18. Megasonic - Outside World (Max K. & Yann Lizot Remix Edit)
19. Alex Megane - Turn Me On (Picco Remix Edit)
20. Sunn - Shoulda (Pit Bailay House Edit)
Uwaga! Linki nie zakodowane tylko dla zarejestrowanych użytkowników!
Nie masz konta?
Zarejestruj się za darmo!
----------------
Links are not encoded only for registered users only! Plese login or register!
Informacje
Jeżeli chcesz skomentować artykuł musisz być zarejestrowany na stronie.