Witamy na EXSite.pl! Tutaj znajdziesz wszystko!
Darmowe filmy, darmowe gry, darmowe programy, darmowe mp3, albumy, szablony, tapety, style windows skins, darmowe filmy erotyczne, teledyski, eBooki, anime, darmowe seriale i wiele więcej... Wszystko za darmo!
Vero VISI v20.0 2013 up.dla.EXSite.pl.
Vero VISI v20.0 2013 up.dla.EXSite.pl.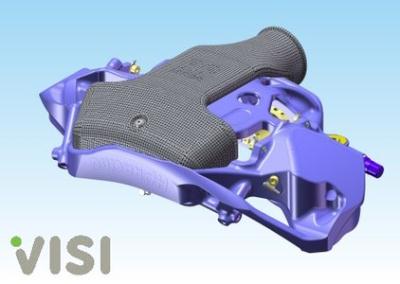 Vero VISI 20.0 2013 | 1.2 Gb
Vero Software, a leading provider of CAD/CAM/CAE solutions for the tooling industry, have announced the release of their Mould & Die focused product VISI 20.
Version 20 is a substantial release introducing many new features in all areas of the product with continued emphasis on solutions for mould, tool and die makers.
Major graphic enhancements include improved rendering, a programmable dynamic command widget and the ability to fast-view a file before opening to include pan and zoom functionality. In addition, CAD translators have been updated to support Solid Works and Solid Edge assemblies, support for PTC Creo and JTopen B-rep entities.
Significant CAD enhancements include the ability to assign constraints to geometrical bodies (Concentric, Parallel, Coincident, Distance, etc) providing the tools to simulate the real movement of tooling, such as the ability to check for collisions with slides, cams, lifters, etc. A re-designed feature manager and 3D boring chart creates and edits complex holes and pockets as well as recognising features directly from the 3D model or 2D drawing for automated annotation.
User efficiency continues to be a focus for product development, with the process workflow having been improved in a number of areas. This includes the ability to extract wireframe edges and also concatenate and simplify the extracted elements, remove knot points and split the geometry into correctly formatted curves based on angular deviation. Automating the process in this way significantly speeds up high quality surface creation when working with third-party data.
- VISI Progress developments include a new tool building engine, improved unfolding and new middle skin functionality for flanging and blanking operations. Other enhancements include a completely rewritten explode tool for 3D assemblies (with the ability to record the explode movements), improved standard component catalogues and continued collaboration with CADENAS.
- VISI Flow, for plastic flow analysis, is now 64bit compatible, and therefore capable of benefiting from additional hardware performance. Other developments include new tools for the thermal analysis of conformal cooling. This process provides the ability to analyse 3D cooling circuits produced using rapid prototyping techniques and impossible to manufacture using traditional drilling / boring cycles. In addition, improvements to sequential moulding, gas assisted and over-moulding ensure mould makers benefit from the latest cutting edge technologies.
VISI 20 represents another release with major CAM development. One innovation is the ability to distribute the toolpath computation onto different machines connected to the same private network. This technology uses ``Distributed computing``, where the computers interact with each other to achieve a common goal. Each goal is divided into many tasks, each of which is solved by one computer connected to the network. The main advantages are the combination of slave computers can produce a similar computing resource as a multi-processor super-computer and keep the master PC free from heavy calculations.
New toolpath algorithms include an innovative roughing strategy, improved auto rest machining, new multi-axis side wall machining and new multi-axis roughing. The new roughing strategy massively reduces rapid moments, optimises stepover when using values above 50 of the tool diameter and propagates high speed transitions and corner pip movements avoiding feed reduction while machining.
Other CAM developments include improved collision control, a new feature recognition engine, support for additional tooling forms (barrel cutters, convex tip cutters, radiused chamfer cutters and radiused dove cutter) and a new ``dynamic incremental stock`` (DIS) command that automatically creates the stock model from the uncut material of previous operations and automatically trims the toolpath to remove unnecessary movements and fresh air cuts.
Wire EDM developments include the ability to auto detect undercuts. When the offset is larger than the radius of an arc, the toolpath can self-intersect. The solid simulation has been enhanced to detect these conditions where the toolpath crosses and highlight these in the movement list. The user can optionally ignore these conditions or have the simulation automatically stop when they occur. New corner relief tools allow the addition of corner relief to all internal corners and external corners independently. It is usual for a user to want to apply these separately, for example to add relief to a die-only internal corner. Finally, the technology database has been enhanced so the materials presented are filtered against the machine model as opposed to the machine family, and the available wire types are filtered against the material type. This leads to a more efficient and accurate technology selection for the user.
About Vero Software
Vero Software is a world leader in CAD/CAM development with a proven track record of reliable product delivery. Vero develops and distributes software for aiding the design and manufacturing processes, providing solutions for the tooling, production engineering, sheet metal, metal fabrication, stone and woodworking industries. The companies world-renowned brands include Alphacam, Cabinet Vision, Edgecam, Machining STRATEGIST, PEPS, Radan, SMIRT and VISI, along with the production control MRP system Javelin. Despite the diversity of application, these solutions have one thing in common: they all address the rising challenges of achieving manufacturing efficiencies and bring huge value to the operations where they are deployed.
The company has direct offices in the UK, Italy, France, Japan, USA, Brazil, Netherlands and China, supplying products to more than 45 countries through its wholly owned subsidiaries and reseller network, with more than 135,000 global licenses installed.
Uwaga! Linki nie zakodowane tylko dla zarejestrowanych użytkowników!
Nie masz konta?
Zarejestruj się za darmo!
----------------
Links are not encoded only for registered users only! Plese login or register!
Informacje
Jeżeli chcesz skomentować artykuł musisz być zarejestrowany na stronie.