Witamy na EXSite.pl! Tutaj znajdziesz wszystko!
Darmowe filmy, darmowe gry, darmowe programy, darmowe mp3, albumy, szablony, tapety, style windows skins, darmowe filmy erotyczne, teledyski, eBooki, anime, darmowe seriale i wiele więcej... Wszystko za darmo!
jetAudio Plus 2.0.0 (Android) 2013 up.dla.EXSite.pl.
Dodał: peet85 7 Luty 2013 13:03
jetAudio Plus 2.0.0 (Android) 2013 up.dla.EXSite.pl.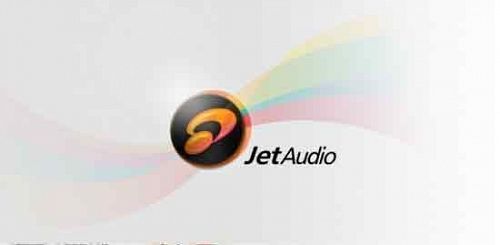 jetAudio Plus 2.0.0 (Android) 2013
Overview: jetAudio is a music player with Wide/Reverb/X-Bass and 10/20 bands EQ.
Requirements: Android Device OS 2.3.3 and up
jetAudio for Window is the highest rated and most downloaded media player on CNET and, now you can listen to same high-quality sound on your Android phone using jetAudio.
It plays almost any type of digital music files you have (.wav, .mp3, .ogg, .flac, .m4a, .mpc, .tta, .wv, .ape, .mod, .spx and more) and, it provides a very high quality sound with various effects and enhancements such as Wide, Reverb, X-Bass.
It comes with 32 equalizer presets that will provide a wide array of listening experience.
For those who would like to customize their own sound experience, it also allows 10/20 bands graphic equalizer and other advanced playback functions including playback speed control, crossfading, AGC and much more.
Basic version provides same features with Plus version except advertisements and some features.
To enjoy full features of jetAudio, please purchase Plus version.
* 20-bands graphic equalizer
* Display lyrics in tag (Unsynchronized lyrics)
* 2 New lock screens
* 6 New app widgets : 4x1 (#2), 4x2 (#1), 4x2 (#2), 3x3, 2x2, 2x3
* Wide, Reverb, X-Bass sound effects
* AGC (automatic gain control) to avoid volume fluctuations between tracks
* Speed control from 0.5x to 2.0x (pitch adjusted)
* Crossfading, Gap-less playback
* Fade-in/Fade-out
* Browser and play music by artits, albums, songs, playlists and folders
* Balance/Volume control
* Sleep timer up to 24 hours
* Flick up to post what you're listening to on Facebook/Twitter
* Flick down to show Now Playing
* Flick left/right to play next/previous
* Lock screens
* Repeat AB
* Headset button control (press to pause/resume, double press to play next)
* Multi-select function (Delete/Add to playlist) for folder mode
* Supporting formats:
MP3, WAV, OGG, FLAC, M4A, MPC, TTA, WV, APE, MOD (module formats S3M, IT), SPX, AIFF
What's New in jetAudio Plus version :
v2.0.0
* Light Gray theme for browser(Plus only)
* Grid mode for Album browser
* Grid mode for Song/Folder/Genre browser(Plus only)
* New Preferences using ICS/Jelly Bean Holo theme
* Share menu for Song/Folder browser
* Improved UI response
* Can add widgets on Jelly Bean lock screen
* New widgets (4x3 v2, 4x4 v2) for Jelly Bean lock screen (for Plus only)
* Enhanced Wide
* Support Simple Last.fm Scrobbler
* Added German language
* Added Multi-select button on Folder browser
* Fixed minor bugs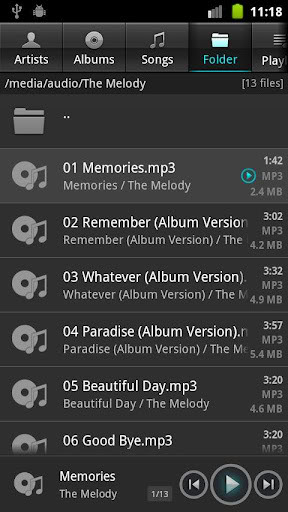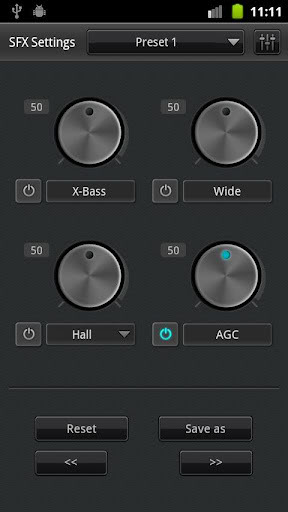 Uwaga! Linki nie zakodowane tylko dla zarejestrowanych użytkowników!
Nie masz konta?
Zarejestruj się za darmo!
----------------
Links are not encoded only for registered users only! Plese login or register!
Informacje
Jeżeli chcesz skomentować artykuł musisz być zarejestrowany na stronie.